Multi-pitch delight: Barbara Zangerl repeats Délicatessen (8b)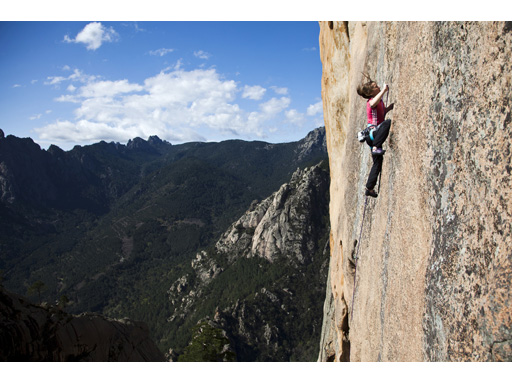 Herzogenaurach/Corsica, May 2012 – Barbara Zangerl treated herself to some sheer climbing thrills during the third repeat of Délicatessen (8b/5.13d) at the end of April in Corsica. Following three days of checking out the route with interruptions due to hail and rain, including soaking wet material, she and her climbing partner Emanuel Falch were rewarded with one sunny day. Barbara took full advantage of the excellent conditions to free-climb this unique multi-pitch route the very same day. "This climb was an absolute highlight for me! One of the most beautiful routes - ever!"

The 120-metre/394-feet-long route extends over five pitches of extremely compact granite with several difficult sections of ledge. "The structure of the rock is unique. A very compact rock face with ingenious orange granite formations. From tiny ledges to huge, imaginatively-shaped holds, this rock face has the lot," enthuses Barbara after the climb. The Austrian's all-in moment and crux was in the first pitch (8b/5.13d): "Following a tough boulder section where you really have to stretch on each move there is a really difficult ledge where it is as much luck as skill to friction-climb these tiny holds without slipping. I baled right there at the ledge during the first attempt." She managed the remaining pitches (7c+/5.12d, 7c/5.12c, 8a/5.13a, 6c/5.11a) at the first attempt, despite the fourth pitch of Délicatessen featuring a full-length technical ledge rated eight on the French degree of difficulty scale. "I had a lot of respect for the final pitch, particularly because I knew that I hadn't yet worked out the solution to the crux. In the end everything worked out. My motivation for the final pitch and the exit was massive. It all went like clockwork with a perfect combination of holds at the critical point."
Délicatessen was instigated in 1992 by Arnaud Petit and Stéphane Husson. It is one of the most awe-inspiring multi-pitch tours in Europe. Following the first ascent by Arnaud Petit in 2001, Cédric Lachat and Nina Caprez repeated the climb last year. The route has been on Barbara's wish list for quite some time. She received additional motivation from Nina's photos and recollections.
contacts
Katharina Habermann

PR Manager Outdoor

Germany

Katharina.Habermann@adidas.com

+49 9132 84 2651