adidas Originals Launches the 'Quickstrike Pack' In Partnership with DJ Clark Kent and Russ Bengtson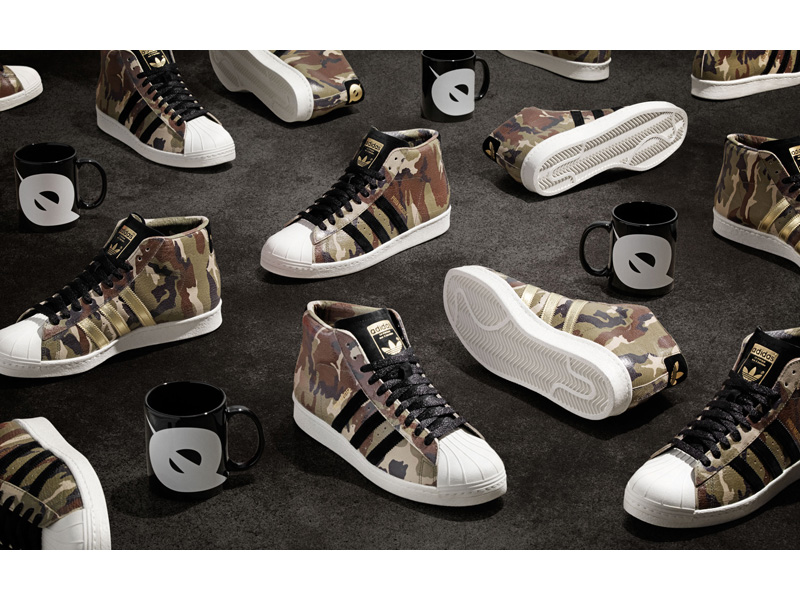 (PORTLAND, Ore.) May 25, 2016
- adidas Originals partners with Russ Bengtson and DJ Clark Kent to create the 'Quickstrike Pack' in celebration of the Quickstrike sneaker series on Complex. The 'Quickstrike Pack' is a year in the making, featuring a limited-edition Pro Model and Superstar custom colorway. The 'Quickstrike Pack' was created out of mutual respect for the contributions made to sneaker culture by the Quickstrike series and the impact of the adidas Originals brand in streetwear over the last 30 years. Both the Pro Model and Superstar silhouettes were hand selected by the hosts of 'Quickstrike' as their all-time favorite styles from adidas Originals sparking the collaboration. Within the design language for the collaboration, meticulous detail is placed on the material and colorway stories contributing an exciting addition to the iconic style lineups for both silhouettes.
The Quickstrike Pack features a Pro Model colorway in a full camouflage leather upper, dual contrasting strips in matte black and gold lame, a black heel tab with both the adidas Originals trefoil and Quickstrike logos on opposing shoes and, features a black full-suede tongue embossed with the adidas Originals logo in gold. The pack is complimented with an exclusive Superstar 80 shoe elevated with a perforated star detailing on the leather upper and dual contrasting stripes in camouflage and gold lame. The details continue on the Superstar 80 with a complimentary heel tab in camouflage leather, embossed with the adidas Originals trefoil/Quickstrike logos in gold, while accented by a white full-suede tongue embossed with a gold adidas Originals logo.
The Quickstrike Pack will be featured today on the special edition of the Quickstrike series on
Complex.com
.
The Quickstrike Pack is available on June 4 at
adidas.com
and select major retailers. The Pro Model will retail for $160 and the Superstar will retail for $150.
contacts
RaEsa Benjamin Wardle

Sports Style PR

United States

RaEsa.Benjamin-Wardle@adidas.com

212 352 6134

503 348 7367