Fabian Schar
adidas FIFA World Cup 2014 - player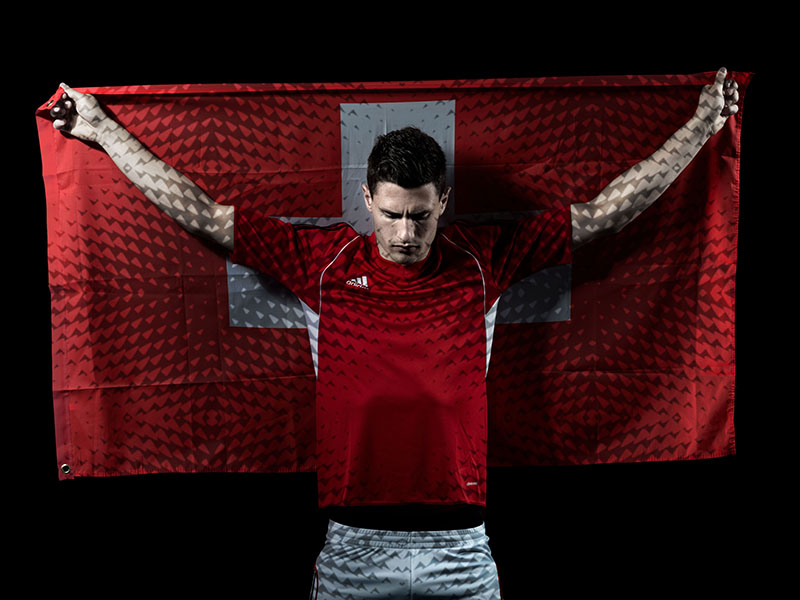 You were working in a bank as an intern three years ago, now you're on the verge of the World Cup. That's quite a story…
It's pretty crazy to think back on the couple of years I've had. I used to work all day in a bank, then go to training with my club, then get home and study for my qualifications at 10pm every night. I wasn't sure that I was going to make it as a footballer – you just can't be certain of these things.

It took you a while to establish yourself at Wil 1900, your hometown club, then?
It did. But when I signed for Basel things looked up, and I realised I was going to make it as a player. To go from that, so fast, into the international team, then to the World Cup, is just fantastic, unbelievable really. There's nothing wrong with working in a bank, but I'd rather be doing this.

You've always got something to fall back on, anyway…
Yes, and that's no bad thing in this career. You can get injured at any time. And it's no harm knowing how to manage money well – maybe I can advise some of my teammates, too!

You also played at youth level, like so many other Swiss internationals. How does this Swiss production line keep turning out such great players?
I played at under 20, under 21 and Olympic level – and that helps. Many others played way back to under 16 level, but I didn't. It's hard to say why it is happening on such a scale in Switzerland, but there has certainly been a massive number of Swiss professional players come through from my generation – 21 and 22 year olds, and it has improved a lot over the last decade.

The system is very well set up to produce players, then?
Yes. The coaches here get players very young and teach them to play the right way. Then as you move through the ranks there are excellent coaches all the way through, so you don't lose the learning curve at any point. I'm a bit of an exception because I blossomed late, but I still benefited in the U21 side.

And Switzerland have taken the youth tournaments very seriously and won quite a few, too, which could soon pay off at senior level…
That's the idea, I think. If you win at under 17, under 19, under 21 level, as a proper team and a unit, groups of players are going to come through who really understand each other, share a philosophy and can play in the same way. It produces a strong group mentality, and we feel we have that in the senior team now, too.

Although there is a nice blend of youth and experience.
Yes, however good your youngsters are, you can't just have a team full of them, and we have some great professionals who have been around a long time and can show us younger ones the way forward. We all respect each other and it makes for a good side. We now need to prove it by putting in a great performance this summer.

You played for the Olympic side at London 2012, what kind of an experience was that for you?
I loved being at the Olympic Games. London was fantastic and the ceremonies were something pretty special. People don't associate the Olympics with football really, and it's never going to rival the World Cup, but it is a good standard tournament, and it's a big thing for younger players.

Leo Messi and many others have come into their first teams via the Olympics…
Exactly. It's a place where you play very strong nations, and it is taken seriously. You pick up experience and learn about how tournaments work. And who wouldn't want a gold medal? Unfortunately we didn't do too well in London as a side, but I will still look back on it as a good summer.

And so to the World Cup in Brazil. How much are you looking forward to the tournament?
To be going there is just amazing. I'm aware of how lucky I am – to come through the ranks and then be taken to an Olympic Games, followed by a World Cup in Brazil. It's the most appealing venue for the tournament that you can imagine, and I can't wait to see what the cities, the stadiums and the crowds are like. It's a once in a lifetime thing, so for it to have fallen during my playing career is something I appreciate greatly.

You scored three goals in your first five Switzerland games – that's not a bad strike rate for a defender!
I'd be happy with another three at the World Cup, that's for sure. It's a bit crazy because I'm not a goal machine by any measure, and although I do get a few at club level, they are bonuses rather than something I'm in the side to do. I am a defender and that's my job, but I've always been able to hit a ball, too, so if I get the chance from open play or a set piece, I will be looking to have a few efforts on goal. Just don't expect me to win the Golden Boot or anything like that!

You've also been enjoying success with Basel, who have been dominating Swiss football over the last few years.
My club career has gone very well. Since I came to Basel from FC Wil 1900, I've felt very at home. We won the league and cup double in 2013 and it's gone very well again this year. I'm happy at Basel and to be playing in the Champions League has been a very special this year. Every season I have been able to test myself at a higher level and this summer will be yet another step up.

Your boss at Basel, Murat Yakin, must be a good person to learn from, as a former Swiss centre back himself.
He was a superb player, it's true, and he's brought that excellence through with him into coaching as well. He was cool on the ball, he could pass and shoot, he was strong in the air – these are all things I am trying to be too. So it's great to have him to guide me and he has improved me no end as a player. My elevation to international football is very much down to him, and I'd like to thank him.

And Ottmar Hitzfeld is a pretty good mentor, too….
He is a great man with such a huge realm of experience in world football, and again he has been perfect for me. He is a good match for Switzerland, because the sides he managed in club football – Dortmund and Munich in particular, played in a way that suits the squad we have here, and he is making us a better team all the time.

So you think you'll have a good run at this tournament?
I do. We are confident and we have the mentality to get out of the group. It is not the easiest line up of opponents, but it neither is it a group of death. People back in Switzerland have a strong hope that we're going to get to the last 16 and beyond.

You're relatively new to Twitter, can we expect some World Cup tweeting from @fabainschaer?
It's true, I've only done 30 tweets or so, I'm not like some players with three million followers and thousands of tweets! But I enjoy it, so I'll try to do a few from Brazil. It's a nice way to interact with the loyal Swiss fans.
contacts
Alan McGarrie

Global PR and Social Director for Football

Germany

+49 9132 84 4686

Paulo Oliveira

Football Global PR team

Germany

paulo.oliveira@externals.adidas-group.com

+49 171 1069 152