adidas Updates MiCoach Train and Run APP For Windows Phone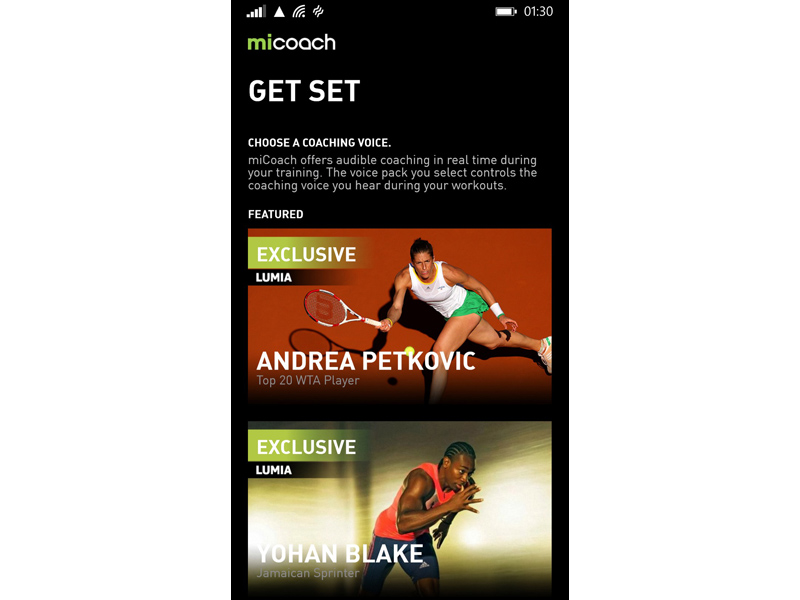 adidas today announced an update to its miCoach Train and Run app for Windows Phone. The update brings a fresh look and feel, introduces a new voice pack from German National Tennis Champion, Andrea Petkovic, as well as integrating Sensorcore SDK for stride rate measurement.

After little over a year the miCoach Windows Phone app has been downloaded more than a million times and is one of the most popular fitness apps on the Windows store. The app provides real-time intensity based coaching for runners and fitness enthusiasts by using GPS to monitor your pace, and voice narration to prompt you to increase or decrease effort according to your training plan. On compatible Lumia handsets the app will also connect to Bluetooth Smart sensors like the adidas heart rate monitor and Speed_Cell, with these additional sensors you can take your training indoors and across a variety of cardio equipment such as: Steppers, cross trainers, rowers and stationary bikes. Whatever your goal, using your workout intensity to follow an interval based training plan will deliver the results you want much faster. The app also provides strength and flexibility coaching with over 400 guided movements.

By integrating Sensorcore SDK for lumia handsets, the app can use the handsets built-in sensors to monitor your stride rate as you run. Targeting a higher stride rate is a great way to avoid over striding and will improve your technique and efficiency as well as reduce the risk of injury from excessive heel striking.

The app update is available now for download from the Windows Phone Store.

About adidas miCoach
miCoach is an interactive training service for anyone who wants to train for his or her favorite sport, general fitness or just for fun. Bringing the knowledge and experience of adidas' elite coaching partners to the masses, miCoach provides users with real-time coaching and all the tools they need to track performance and monitor progress to get the results they want. The breadth of the offer includes a free to access web platform and training community with hundreds of free training plans, free mobile apps on iOS, Android and Windows Phone 8 as well as a comprehensive range of devices for tracking all aspects of performance, both in game and in training. Visit www.micoach.com.
contacts
Tony Hope

Program Lead - miCoach

Germany

+49 1608 84 6355