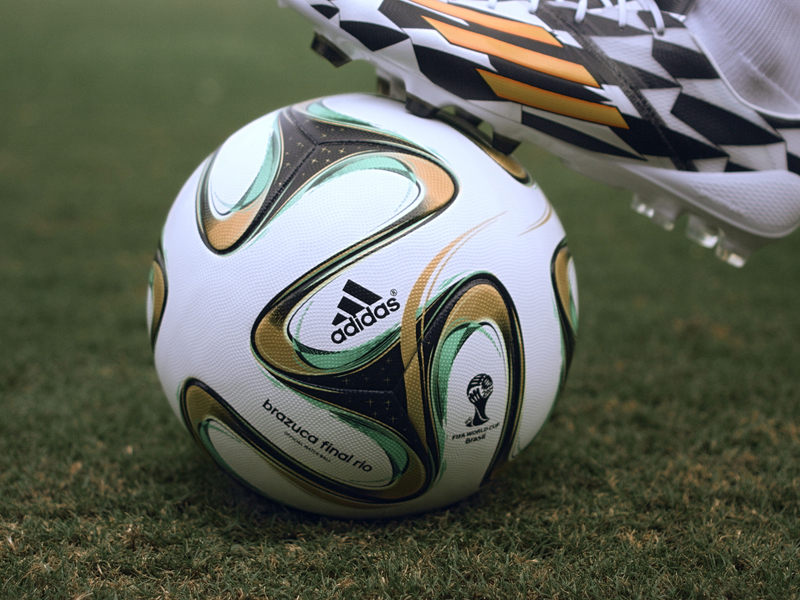 Brazuca Final Rio Official Match Ball, the official match ball for the Final of the 2014 FIFA World Cup Brazil™. The ball will be an integral part of the Final on 13th July when the top two federations battle it out for a place in history. The design of brazuca Final Rio has been inspired by the green and gold on the FIFA World Cup™ trophy and is a variation of the previously released adidas brazuca Official Match Ball which was launched back in December last year.
The technology incorporated into the bladder and carcass of brazuca and brazuca Final Rio is identical to the Tango 12 (UEFA EURO 2012™), Cafusa (FIFA Confederations Cup 2013) and the ever-popular UEFA Champions League™ Official Match Ball. However, a new structural innovation with a unique symmetry of six identical panels alongside a different surface structure will provide improved grip, touch, stability and aerodynamics on the pitch. brazuca has been thoroughly tested to meet and exceed all FIFA metrics for an official match ball, ensuring top performance for every condition.
Brazuca Final Rio is available to purchase globally from Sunday 1st June in selected adidas retail outlets, associated stockists and via
www.adidas.com/worldcup
. Join the adidas football conversation at
www.facebook.com/adidasfootball
or on Twitter: @adidasfootball #allin or nothing.
contacts
Alan McGarrie

Global PR and Social Director for Football

Germany

+49 9132 84 4686

Paulo Oliveira

Football Global PR team

Germany

paulo.oliveira@externals.adidas-group.com

+49 171 1069 152