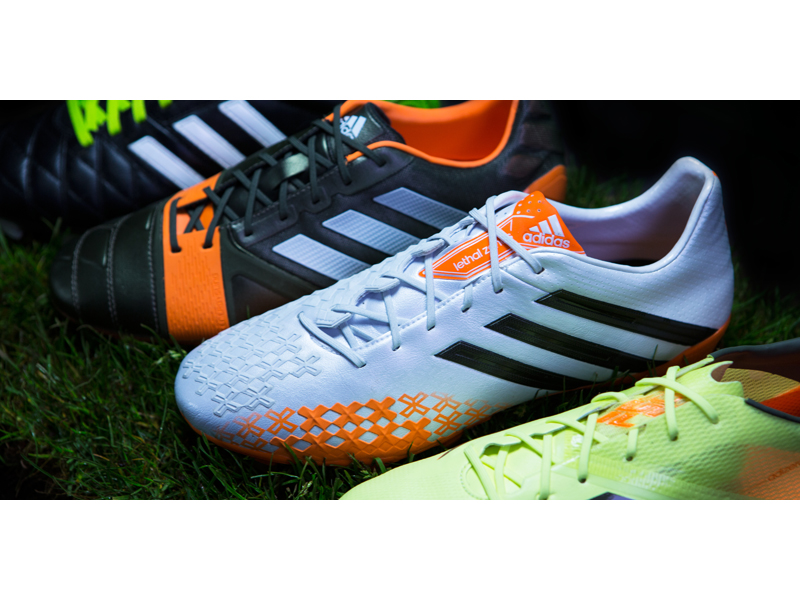 The Earth Pack is a collection of uniquely designed boots for each of the four main silos: adizero™ f50, predator®, nitrocharge™ and 11pro.

adizero™ f50
The adizero™ f50, worn by players such as Gareth Bale and Luis Suarez, enables players to be as fast as possible on the football field. The Glow / Earth Green / Solar Zest coloured Earth Pack adizero™ f50 boasts SPEEDTRAXION, an enhanced, high speed stud alignment for maximum acceleration and pinpoint changes of direction, and SPEEDFOIL, a revolutionary material that combines lightweight, softness and durability for a comfortable, yet locked down heel fit.

nitrocharge™
nitrocharge™, the energy-retaining football boot designed for 'The Engine' as worn by Dani Alves and Javi Martinez, comes in an Earth Green / Running White / Solar Zest colourway. Its unique and highly elastic ENERGYSLING™ around the forefoot supports sidecut and precision turn movements to sharpen reactions on the pitch, and ENERGYPULSE™ spring technology provides high energy push-offs and long lasting energy return when sprinting.

predator® Lethal Zones
The Earth Pack predator® Lethal Zones favoured by the likes of Oscar and Mesut Ozil boasts a Running White / Earth Green / Solar Zest colourway. Designed with five distinctive 'Lethal Zones' of technology to deliver outstanding ball control, touch, accuracy and power, the boot is made to master every aspect of performance.

11pro
With a Black / Running White / Solar Slime colourway the Earth Pack 11pro has a classic look favoured by star players such as Philipp Lahm and Frank Lampard. With its premium, ultra-soft and ultra-light Taurus leather providing excellent fit, performance, comfort and ball-feel allied to an enhanced outsole with comfort frame for better pressure distribution, as well as optimised stud placement for maximum grip and acceleration, the 11pro remains the boot of choice for the complete footballer.
contacts
Alan McGarrie

Global PR and Social Director for Football

Germany

+49 9132 84 4686

Paulo Oliveira

Football Global PR team

Germany

paulo.oliveira@externals.adidas-group.com

+49 171 1069 152