adidas Originals - Dear Baes Tour Pack por Pharrell Williams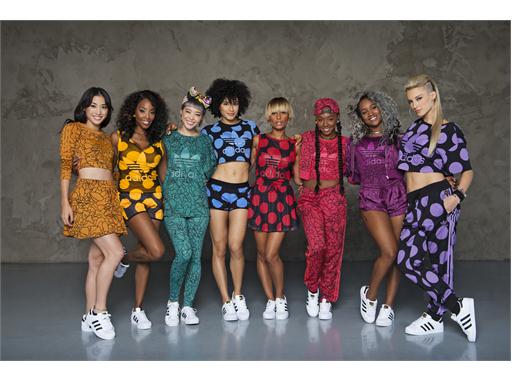 "Sé fiel a ti mismo" - Es el mantra que hace que las marcas sean geniales, el espíritu del cual nacen las estrellas y el ethos del cual The Baes viven y se desempeñan. Con Pharrell Williams como su mayor embajador, y las presentaciones arrebatadas a arenas vendidas como parte de su día a día, Ai, Brya, Christina, Mette, Munchie, Nita, Rhae y Aye, indudablemente tienen el mundo a sus pies. Las artistas escogieron adidas Originals como sus colores de equipo, dentro y fuera del escenario, al acompañar a Pharrell en tours alrededor del mundo. Ahora, por primera vez, adidas Originals ha soltado a las chicas para crear su propio look, y lo resultados son un torbellino de movimiento y personalidad, tan enérgico como The Baes mismas.
Cada miembro seleccionó su matiz favorito del lanzamiento Supercolor de Pharrell, y los diseños han sido creados por adidas Originals con la personalidad de cada Bae en mente. Los estampados vuelven a la vida en una variedad de siluetas inspiradas en el deporte, listas para el escenario - camisetas boyfriend extra grandes se escabullen sobre leggings con prints gráficos. Y los crop tops se asientan sobre faldas en círculos que combinan, mientras que los shorts son puestos en capas con los leotardos. Dos estampados se toman el centro del escenario - polka dots inmensos en muchas repeticiones y un dibujo lineal inspirado en la flor de loto que florece desafiante en cuatro matices distintos.
No dudes que estas chicas son fuertes, salvajes y coloridas. Y adidas Originals está orgulloso de representarlas en su primera colaboración oficial - el Dear Baes Tour Pack por Pharrell Williams.
contactos
Miriam Eskenazi

PR Manager

Panama

Miriam.eskenazi@adidas.com

+507 377-3387

Ana Priscilla Herrera

PR Specialist

Panama

anapriscilla.herrera@externals.adidas-group.com

-

Jessica Pazos

Director of Publishing - adidas Latin America

Panama

jessica.pazos@adidas-group.com

+ 507 377 33 34