ADIDAS ATHLETICS JOINS THE FIGHT AGAINST MARINE PLASTIC POLLUTION WITH THE RELEASE OF THE FIRST-EVER ADIDAS Z.N.E. HOODIE PARLEY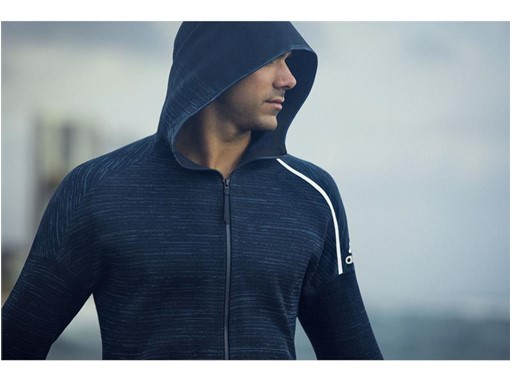 adidas and Parley for the Oceans collaborate to help end marine plastic pollution and create the future of sport and the industry to better protect the planet
French and Brazilian swimming athletes, Coralie Balmy and João de Lucca, front the new campaign to inspire positive change and raise awareness for the oceans
Oceans and sport come together to turn the threat of marine plastic pollution into a thread with Parley Ocean Plastic™
Fit for comfort, designed for style, the brand-new adidas Z.N.E. Hoodie Parley is created for athletes who are passionate about their game, and the oceans
Herzogenaurach, June 20, 2018 – Today, adidas Athletics joins the fight against marine plastic pollution by releasing the first-ever Parley weave adidas Z.N.E. Hoodie made with Parley Ocean Plastic™ yarn.
Parley is a global network where creators, thinkers and leaders come together to raise awareness for the beauty and fragility of the oceans and collaborate on projects that can end their destruction. adidas and Parley joined forces in 2015 and among the many activities supporting the implementation of the Parley AIR strategy, the two work together to transform plastic intercepted from beaches and in coastal environments into high-performance sportswear. Collectively they spin the problem of marine plastic pollution into a solution, the threat into thread.
adidas Athletics now proudly joins the cause with the release of the first Parley weave adidas Z.N.E. Hoodie Parley, to create awareness and inspire a cultural shift in behavior to protect the future of sport, and the planet.
Featuring French swimming athlete Coralie Balmy and Brazilian swimming athlete João de Lucca, the new campaign features both swimmers in an urban swimming environment. In featuring two swimmers who are renowned for their passion for the water and environmentalism, adidas Athletics aims to inspire others to choose products with a higher purpose.
French swimming athlete Coralie Balmy said: "The ocean is everything to me, it's where I train, compete, work and relax. I have chosen to dedicate my life to its protection, so I am excited to support the launch of the new adidas Z.N.E. Hoodie Parley. Through my involvement in the campaign I hope to help raise awareness for the cause and demonstrate how innovation and sport can inspire change. The hoodie is stylish and comfortable, and knowing it helps to protect the waters is important to my environmental values."
Rooted in sport, born from culture and shaped by style, the brand-new adidas Z.N.E. Hoodie Parley is built for purpose and redefines eco-innovation in sport. Featuring a fully-fashioned knit, the new hoodie has a highly adaptable fit and is made out of Parley Ocean Plastic™ yarn for lightweight comfort. Engineered using body-mapping techniques, the hoodie features a precise knit structure for zoned ventilation, flexibility and stretchability, so athletes can move comfortably and with ease on and off the field of sport.
The adidas Z.N.E. Hoodie Parley is available for $180 starting June 20 on
www.adidas.com
and
in adidas stores worldwide beginning June 27, 2018.
To find out more, please visit:
adidas.com/us/athletics_zne
. Follow the conversation at @adidas on Instagram, Facebook and Twitter and using #ZNE #adidasParley.
contacts
Margaret Bourn

Women's PR

United States

margaret.bourn@adidas.com

+1 212-352-6129