adidas Originals Opens Factory 55: An Evolving Space For Local Creators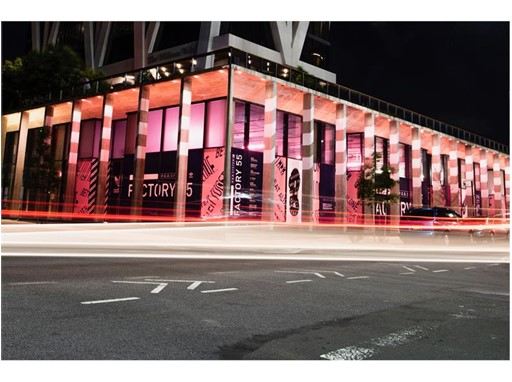 Last night adidas Originals celebrated the opening of Factory 55, a pop-up, creative workspace located in the heart of Williamsburg, Brooklyn, featuring a DJ performance by Kerwin of the Spaghetti Boys. Coinciding with the latest iteration of the P.O.D. System, Factory 55 invites the surrounding community to create alongside adidas, offering a rotating series of workshops, panels and sessions that equip visitors with new skills, techniques and ideas. Built around the P.O.D. System ethos 'Great Alone, Better Together', each day of programming at Factory 55 is designed to generate a communal dialogue among the designers; artists; musicians; photographers and workshop participants. Open to the public starting Thursday, August 2nd through Sunday, August 4th, Factory 55 is the latest adidas activation empowering visitors to unleash and realize their creative potential and will feature programming led by: Eric Emanuel, Morning Breath, Joe Freshgoods, Luke Tadashi, @1st, Paper Work NYC, New York Sunshine, and Man Repeller.
On arrival at
Factory 55
, guests are greeted with displays highlighting the podular sole construction unique to the P.O.D. System silhouette – a visual nod to the design process detailed in the shoe's recently unveiled
documentary
, also being screened in the space. From there, guests can learn more about the shoe's origins and shop the silhouette at a pop-up boutique on-site.
Before arriving on Factory 55's main floor, guests will pass through a curated gallery photo exhibit, documenting the community mural movement that developed nationwide in the late 1960s. Curated by author, historian and graffiti's foremost authority Roger Gastman—celebrated for his recent exhibition, Beyond the Streets—the survey is a collection of photography that captures the works of a wide range of street artists –all with a shared love for creating rule-breaking, public displays of art.
At the heart of Factory 55 are the multiple workstations, each offering visitors the chance to experiment, play and flex their creative instincts, through:
Open labs, offering tutorials on and tools for zine and poster making
Smaller seminars requiring pre-registration that focus on photography; DJ'ing; t-shirt customization and more
A 'merch' lab offering complimentary, customizable, silk-screened Factory 55-branded goods
Panel discussions with audience participation
Through it all, Factory 55 will host an alternating roster of local and emerging DJs—each hand selected by New York's loudest label, Fool's Gold.
Open to the surrounding community through the weekend, Factory 55 is the latest example of the 3 Stripe brand's 'Open Source', communal approach to creation, a belief that great things don't come from one person alone but rather, often times, through collaborative execution; that through partnership, breakthrough ideas can be achieved that otherwise might never come to pass.
#PODSystem
contacts
Tessa van Bergen

PR Coordinator

United States

tessa.vanbergen@externals.adidas.com

212 352 6140