#Predatorinstinct Takes Over London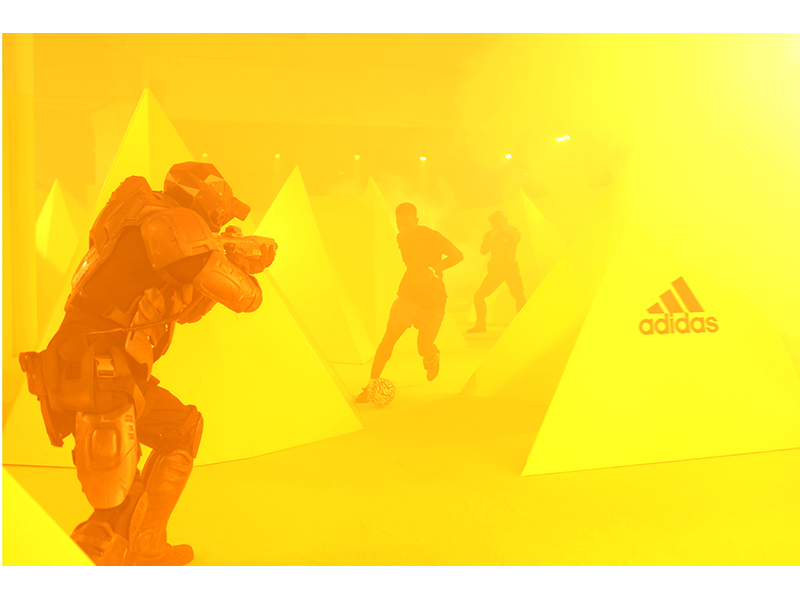 adidas today revealed the first ever real world football gaming experience to celebrate the launch of the Predator Instinct Football boot. At the four day event in London, adidas will give hundreds of fans a unique opportunity to test their football skills in a bespoke life size video game arena within which a team of hunters armed with a laser gun will stalk their prey.

The live event experience is designed to combine two of the 14-19 year old core audiences' loves – football and gaming, testing those instinctive skills that simply cannot be taught within a fully immersive real to life experience.

The game consists of two levels, both different in design and difficulty, where you must avoid losing lives by keeping close control and keeping the ball away from the hunters laser tracking you as you make the journey through the course designed to dis-orientate you, through a full lighting set and smoke filled environment. Against the clock, you defeat the enemy and finish the level by getting the ball into their HQ.

The #PredatorInstinct live event forms part of a campaign to mark the 20th Anniversary of the world's most iconic boot- the adidas Predator, which has been worn by some of the best players in the game, from Beckham and Zidane through to Gerrard and Raul.
contacts
Ben Goldhagen

Football and Team Sports PR

United Kingdom

020 7670 2754