adidas Unveils Plans To Launch Urban Football Centre In Berlin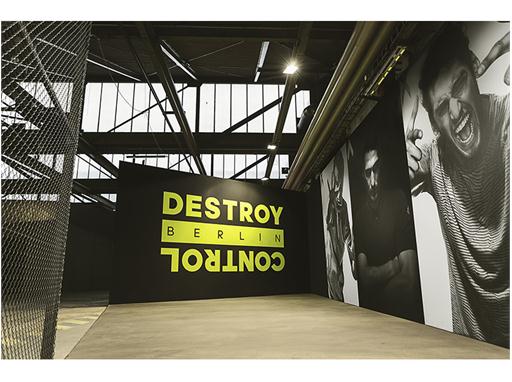 Ahead of this weekend's UEFA Champions League Final, adidas has teased young footballers everywhere with a glimpse of the brand's first urban football centre; to be located in Berlin, Germany.

THE BASE BERLIN is a semi-permanent footballing location and will become a focal point of grassroots football for the world's leading football brand. Working with a group of 35 young footballers from Berlin – known as the Club of 35 – adidas has listened to their valuable input and has designed a facility based around the needs of the modern footballer. Football has changed, and THE BASE will redefine the modern game.

The venue, located in Uferhallen, Berlin, will be officially revealed during an opening party tomorrow night (Friday 5th June) where adidas Football VIPs and young footballers from around Berlin will assemble to take part in a 2 v 2 tournament like no other. Guests will also be invited to take part in small sided football matches and watch a screening of the UEFA Champions League Final on Saturday evening. The venue itself will then be open full time to the general public and young footballers from Saturday 13th June onwards.

As well as a main 5-a-side arena, THE BASE features a variety of unique features made to match the way the game is played today. Selected features include 2-a-side pitches, a trick shot studio, alley pitch, boot room, a warm up area and a dedicated skills area, making this the most exciting venue for football's next generation to come and hone their skills. As well as world class facilities, THE BASE contains hangout zones for the kids of Berlin to relax in-between matches. In one of the world's coolest cities, THE BASE is set to become the next must-visit spot for the kids of Berlin. Additionally, adidas will utilise the venue as an "open source" location for youngsters to get involved in projects such as the testing and development of unreleased product.

THE BASE, located in the heart of Berlin, comes in at a 3,500 square meters, the equivalent length of 520 full sized goals. It represents a huge investment from adidas into the future of football, with over 100,000 visitors expected over its initial 16 month life time. More than 100,000kg of Steel has been used, the equivalent weight of over 430,000 pairs of the new MESSI15 boot. The facility contains 1,800 square meters of fencing, enough to cover two thirds of the path around the Berlin Olympic Stadium. An estimated 15,000 construction hours went into producing the base, equivalent to 167 games of football. The result is a facility designed to match the needs of the next generation of footballers:

- 1,000 SQUARE METERS OF THE HIGHEST QUALITY TURF
- 1,500 SQUARE METERS OF PLAYGROUND DEVIDED IN 7 STATIONS
- 12 INTERACTIVE STATIONS TO EXPLORE

For further information please visit adidas.com/bethedifference or go to facebook.com/adidasfootball or follow @adidasfootball #BETHEDIFFERENCE on twitter or instagram to join the conversation.
contacts
Robert Hughes

Managing Editor Global Newsroom

Germany

+49 9132 84 2352

Alan McGarrie

Global PR and Social Director for Football

Germany

+49 9132 84 4686