adidas and AC Milan launch the Rossoneri Jersey for the 2016/17 season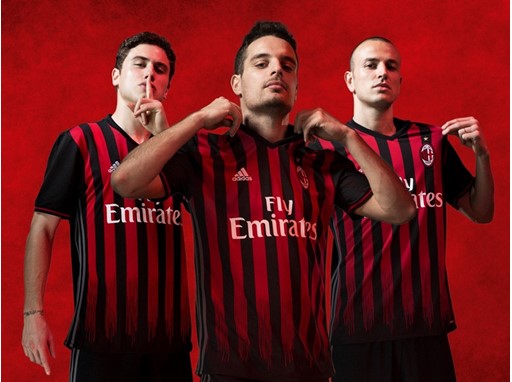 Milan, 14th May 2016 – The new AC Milan home kit for the 2016/17 season will make its debut on pitch at the San Siro in the match against Roma. The jersey takes inspiration from the definition outlined by its founder and creator, Herbert Kilpin: "Our colors are red, because we're going to be a team of devils, and black, like the fear our opponents will feel." The design was developed from this initial vision highlighting a special dripping graphic where the bright red colour fades into black.
During the creative process, Fabio Novembre, an AC Milan consultant, was involved in the jersey's evolution.
Home jersey design
The new AC Milan home jersey comes with thin red and black stripes on the front and total black on the back.The shade of red featured in the red and black stripes is brighter than last year's jersey and creates a dripping effect at the bottom of the shirt.
The adidas three stripes are grey to give greater uniformity to the kit design and they are placed on the side of the shirt, rather than on the shoulders, to show continuity with the shorts' stripes.
The black V-neck collar features an Italian flag on the back. The crest displayed on the jersey returns, after a two year absence, to the contemporary AC Milan badge. The white adidas logo is on the left. The names and numbers of the players are written in Milan Type. The shorts are black with three grey stripes. The AC Milan logo is featured on the front, while the red adidas logo is on the back.
The new Rossoneri home kit is rounded off with black socks featuring elements of red.
Authentic and Replica
The new Authentic kit will allow players to be faster and more comfortable on the field. It is made using a lightweight fabric which increases breathability by providing greater freedom of movement and comfort without sacrificing flexibility and resilience.
The jersey is made of recycled polyester, which has a lower impact on the environment as it reduces emissions, and therefore plays a key role in the adidas programme to protect the environment and promote sustainability.
The Replica jerseys, on the other hand, feature the climacool ventilation technology designed to help keep your body cool and dry through holes, breathable materials, fabrics and special stitchings.
The Home jersey will be on sale starting from Sunday 15th May in all the adidas and AC Milan stores and as well as in the adidas and AC Milan ecommerce channels worldwide
For further information please visit adidas.com/football or go to facebook.com/adidasfootball​ or follow @adidasfootball​​ on twitter to join the conversation.
contacts
Alan McGarrie

Global PR and Social Director for Football

Germany

+49 9132 84 4686

Simon Bristow

PR Director / Herzo Newsroom

Germany

49 160 485 1388

+49 91328473703