adidas and AC Milan present the 2013/14 home jersey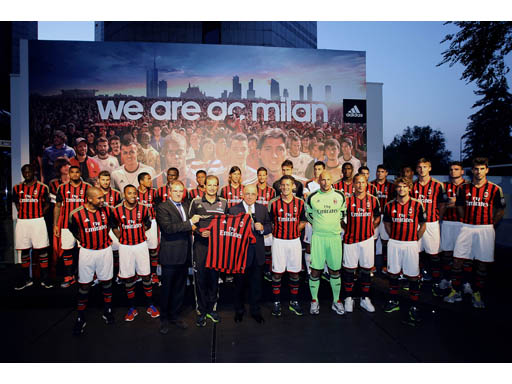 Also on the home jersey the golden three stripes,and a detail related to the "tricolore", to express the pride of being Italian.

The new communication campaign #weareacmilan has been created to convey the sense of belonging to the club that all black and red supporters worldwide have in common.

Milan, July 11th 2013 – AC Milan players wore the new black and red jersey tonight at Byblos in Milan, in the presence of the Vicepresident Vicario and Managing Director of AC Milan Adriano Galliani and Managing Director adidas South Europe Jean-Michel Granier.

For the communication campaign, unveiled last Friday on adidas and Milan social channels, the claim #weareacmilan has been created to underline the sense of belonging of AC Milan fans worldwide, who bring the black and red colours in their hearts.
contacts
Robert Hughes

Managing Editor Global Newsroom

Germany

+49 9132 84 2352

Alan McGarrie

Global PR and Social Director for Football

Germany

+49 9132 84 4686