adidas Gamedayplus Launches Two-part Season Finale ahead of UEFA Champions League Final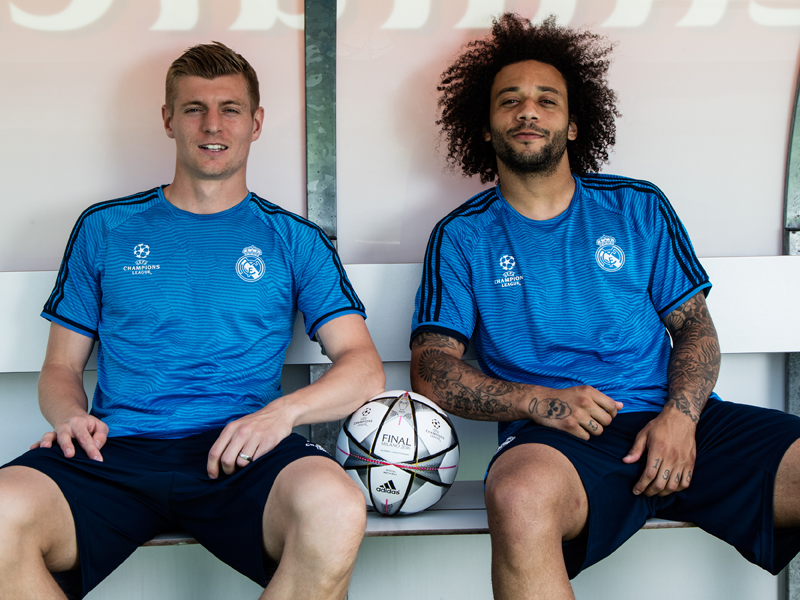 - Real Madrid stars describe what it would mean to win La Undecima -
- Fernando Torres recounts his time at Atletico Madrid and his pride at being in the final -
- Vice President of Design for adidas Football, Sam Handy, describes the design inspiration behind the Mercury Pack -
Herzogenaurach, Thursday 27th May – adidas Gamedayplus has launched a two-part season finale visiting both sides of Madrid ahead of Saturday's UEFA Champions League Final. With Real Madrid aiming for La Undecima and Atletico Madrid their first taste of Champions League glory, adidas caught up with the players hoping to write their names into the history books.
The first of the two-part special sees adidas Gamedayplus visiting Ciudad Real Madrid. Gareth Bale and Marcelo compete in a game of football tennis wearing the new X16+ PURECHAOS before James Rodriguez discusses the lengths he goes to on the training pitch in order to bring success on match-day.
The episode continues with Toni Kroos and Marcelo discussing what it would mean to win their second Champions League trophy and for Zinedine Zidane to win the trophy as both a player and manager, only the seventh person in the history of the game to do so.
The second video in the two-part special kicks off with Atletico Madrid striker Fernando Torres giving adidas Gamedayplus a tour of Madrid in his supercar. Torres describes what it would mean to win the final with his boyhood club before visiting the place where fans go in celebration of their cup wins – the Feunte de Neptuno.
Atletico are renowned for their staunch defence and the episode continues with defenders Filipe Luis and Juanfran going head-to-head in a defensive drill, as they showcase their close control and defensive clearances in the new X16+ PURECHAOS.
Both episodes conclude with Vice President of Design for adidas Football, Sam Handy, giving viewers an insight into the creation of the new Mercury Pack, the design process behind it and the aim of creating a boot that represents the look and feel of a speeding bullet.
Viewers also get the chance to win their very own Finale Milano, the Official Match Ball for the UEFA Champions League Final.
· Watch the Real Madrid Episode at: https://youtu.be/LZUroC-iojg​
· Watch the Atletico Madrid Episode at: https://youtu.be/6nbrtJq7b7U​
About adidas Gamedayplus:
- Subscribe to adidas football on Youtube​ to ensure you never miss an episode. To join the conversation, visit facebook.com/adidasfootball or follow @adidasfootball on twitter.
contacts
Simon Bristow

PR Director / Herzo Newsroom

Germany

49 160 485 1388

+49 91328473703

Alan McGarrie

Global PR and Social Director for Football

Germany

+49 9132 84 4686