adidas miCoach partners with MixRadio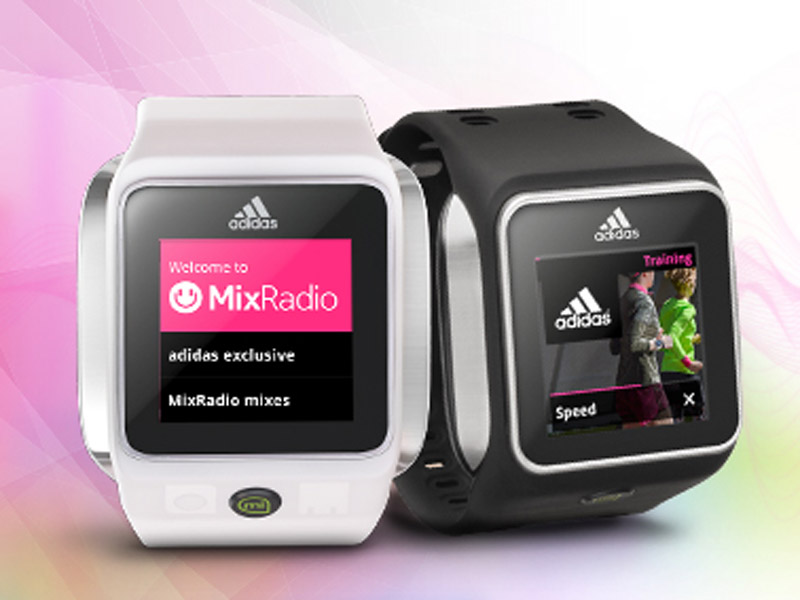 adidas miCoach training service today announced a partnership with MixRadio; creators of the world's simplest personalised music streaming service. The partnership brings together the leading technology in music and fitness, adding a new dimension to the existing miCoach SMART RUN watch. Users of the SMART RUN not only continue to benefit from adidas' expertise in digital coaching but also the extensive catalogue and expert curation of MixRadio, bringing a personal audio experience to their training.

The new partnership means that miCoach users can enjoy MixRadio with the latest software update for the adidas SMART RUN. Integration is completely seamless giving user's access to a music catalogue of over 34 million songs with just a tap of the screen. Mixes are downloaded for off-line use over the SMART RUN's in-built wifi making it easier than ever to get the perfect soundtrack for every run. For a limited time, SMART RUN users signing up to MixRadio will get a six month premium, ad free, service for no cost.

The extensive team of global and local music experts at MixRadio create thousands of exclusive mixes from the global catalogue of over 34 million songs. The mixes are updated every week with the latest new releases, so it is not only a great way to discover new music and rediscover old favourites, but also enables users to find the perfect music mix to keep focused and motivated throughout even the toughest of workouts.

Dave Castell, Head of Brand Partnerships at MixRadio said "The expansion in to wearables is very significant for MixRadio, showing our simplicity and level of personalization can translate well across different platforms. We believe the combination of adidas digital training expertise and the extensive catalogue of music and personal approach that MixRadio provides, will add another level to an already intuitive product and reinforce the value of music in training. We know that fitness and music go hand in hand, a mind-set can change just by listening to music that can push and motivate. Combining music with the advanced fitness technology offered by adidas allows the partnership to deliver a new level of personalisation to training."

The miCoach SMART RUN enables runners to not only track their runs using GPS and monitor their heart rate off their wrist, but they can now also listen to their favourite music from MixRadio and get real-time coaching – all in a single yet simple, colour touch screen running watch.

Continuing to deliver a customized personal fitness experience with the miCoach SMART RUN, all users will be able to benefit from the MixRadio features with just an OTA software update.

Simon Drabble, Director – adidas Digital Sports said "We are very excited about this latest development to the existing innovation in the SMART RUN. The miCoach training system, at its core is about unlocking human potential by making smart training easy and accessible. Adidas constantly strive to push boundaries to ensure we deliver the latest in technology and innovation, to make training more efficient and enjoyable. The partnership with MixRadio adds another level to the Bluetooth wireless audio and training experience and builds on the unique training platform that miCoach provides."

MixRadio is now available to SMART RUN users through an over-the-air software update.
contacts
Tony Hope

Program Lead - miCoach

Germany

+49 1608 84 6355