adidas Originals lança campanha com foto de Kate Moss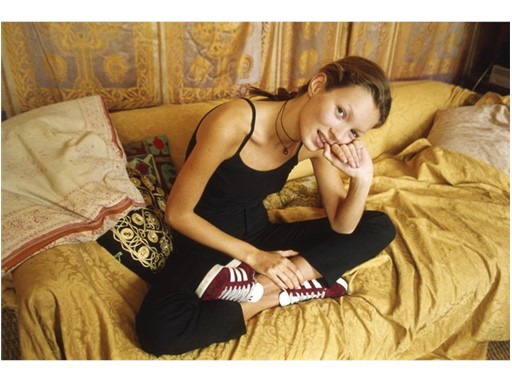 Depois de colocar em debate diferentes visões de futuro com a FUTURE campaign, e seus três lançamentos ZX, Tubular e NMD, no primeiro semestre de 2016, a marca das três listras traz agora para o foco a campanha Remember The Future, que celebra o relançamento de um dos tênis mais clássicos da adidas Originals, o Gazelle!
Em uma colaboração com o artista Doug Abraham (@bessNYC4), conhecido mundialmente por seu trabalho como designer visual envolvendo moda e cultura pop, a dupla marca e artista ressucitaram uma foto icônica de Kate Moss tirada em 1993 usando um par de Gazelles vinho, e realizaram uma série de intervenções que partem da visão criativa e inovadora de Doug.
O resultado final mexe com os sentidos do expectador enquanto apresenta uma nova forma de reapropriação da memória coletiva da moda e da cultura pop. Trazendo uma narrativa inédita aos tradicionais tênis Gazelle, Remember The Future prova que nada é definitivo, e o passado pode ressurgir como inspiração para o futuro.
"A memória coletiva nos inspirou para criarmos o nosso futuro", afirma Nic Galway, diretor de design global da adidas Originals. "Com o relançamento do Gazelle, nós buscamos reviver as referências culturais que definiram o estilo da Originals e sua autenticidade há anos atrás. Kate Moss sempre teve uma concecção muito próxima com a adidas Originals, e sua afeição ao Gazelle durante os anos 90 serviu pra provar que esse tênis é um sucesso entre ícones de estilo e cultura pop em todo o mundo!".
Primeiramente apresentado em 1960, o Gazelle conseguiu se inserir no estilo de diferentes tribos culturais ao longo dos anos. Desde fãs da cultura reggae a jovens ingleses grunge, uma das maiores referências documentadas do tênis é a foto de Kate Moss tirada em 1993. A imagem no futuro iria ajudar a definir o estilo grunge dos anos 90, na medida em que capturou a essencia Gazelle.
"Os Gazelle eram O tênis que todos usaram e queriam usar nos anos 90. Eles tem esse visual timeless que simplesmente não esgota. Eu era e sempre fui uma garota adidas", comenta Kate Moss.
O relançamento dos tênis no Brasil está previsto para meados de Outubro, ainda sem data definida. As peças chegarão à loja física da Originals (Rua Oscar Freire, 678 – São Paulo), além do e-commerce da marca (www.adidas.com.br/gazelle), no valor aproximado de R$ 280,00.
LINK PARA O VÍDEO DA CAMPANHA - https://www.youtube.com/watch?v=VOcnEEbv5_8
LINK PARA VÍDEO BTS COM DOUG ABRAHAM - https://www.youtube.com/watch?v=SwhMyIwU_10&feature=youtu.be
Sobre a adidas Originals
A adidas Originals é a linha de lifestyle da adidas, que reinterpreta, por meio da cultura urbana, toda a sua tradição e história. Com diversas lojas próprias ao redor do país, a marca também vende coleções especiais em lojas selecionadas. O icônico trevo, primeiro logo da adidas, é a marca registrada da linha Originals.
Contato para imprensa:
Press Pass Comunicação&MKT
Amanda Bahl – amanda@presspass.com.br / 3064 2144 r. 232
Laura Lungov – laura@presspass.com.br / 3064 2144 r. 219
contacts
Nathália Paulossi

adidas Originals

Brazil

nathalia.paulossi@presspass.com.br

55 11 3064 2144