Māori All Blacks to Make a Powerful On-field Statement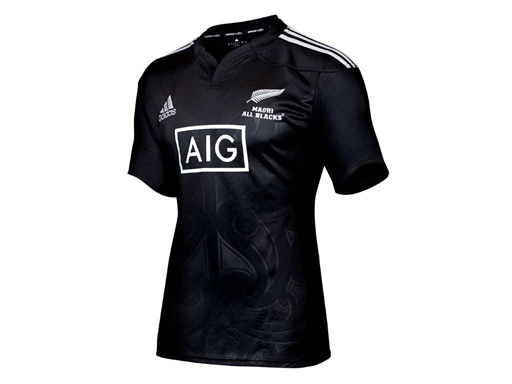 New jersey signifies strength, determination and an unwillingness to ever give in. 'Defeat will surely be the lot of one who is idle'
The Māori All Blacks will travel to the USA and Canada as part of the Aotearoa Fisheries North American tour, proud to wear a jersey inspired by legend and traditional design.
Traditionally playing teams touring New Zealand, the Māori All Blacks will be making the trip to North America, with the aim to promote rugby worldwide.
In 2013 the Māori All Blacks will also sport a new adidas playing strip designed specially for this year's team by well-known and respected Maori artist, David Bourke.
"I was honoured to be asked to design the 2013 Maori All Blacks jersey and have spent many hours ensuring all the elements are meaningful to the team. The design depicts movement, fluidity and constant motion combined with strength and tenacity. Together the elements give life to the associated whakatauki (Māori axiom) - Tama tu, tama ora, tama noho, tama mate – "Movement and fluidity will bring victory, while defeat will surely be the lot of one who is idle."
"The design also represents our ever-evolving future; growth and life and coming out of the darkness to the light. The river of life, the players' whakapapa (the flow of blood through our veins), wairua/mauri (the spiritual side unseen by the eye that flows between us all) are also represented. The jersey also incorporates the mangopare pattern (the hammerhead shark - representing strength, determination and an unwillingness to ever give in)."
"The design faces upward and reflects positivity and moving upward and toward the light and is about all things being connected to each other. The embossed effect of the design on the jersey looks as if it is carved into the jersey. This pays homage to our master carvers."
Māori All Blacks player Liam Messam reiterates the sentiments reflected by David by commenting, "When you pull on the Maori jersey you get a feeling of pride and of cultural respect. There is a lot of thought that has gone into the jersey design that make it a really special jersey to run out in."
"The Māori All Blacks play for all New Zealanders - past, present and those to come in the future, so there is a strong feeling of responsibility and 'mana'."
Originally known as the 'New Zealand Natives', the Maori All Blacks team is a selection of the best of New Zealand's Maori rugby players and boasts a proud history of defeating national sides. The team aims to provide an aspirational pathway for young Maori rugby players. On 1 June 2012 the team's name was changed to Māori All Blacks and the rest is history.
The team will be named in early October with the limited edition Māori All Blacks jerseys available now from all major sporting retailers.

2013 Maori All Blacks Jersey, RRP: $170
Sizes: Small – 3XL available
Stockists: adidas Stores, Rebel Sport, Stirling Sports, Champions of the World and leading sports specialists nationwide
****
For further information or to request an interview please contact:

Jeni Baylis
Spark PR & Activate l Senior Account Manager
jeni.baylis@sparkactivate.co.nz l Phone: +64 9 638 1217 l Mobile: +64 21 880 977
For further information and imagery visit news.adidas.com
contacts
Adam Daysh

Global Marketing Manager

New Zealand

0064 275773439