Pibe de barr10: boots made for the best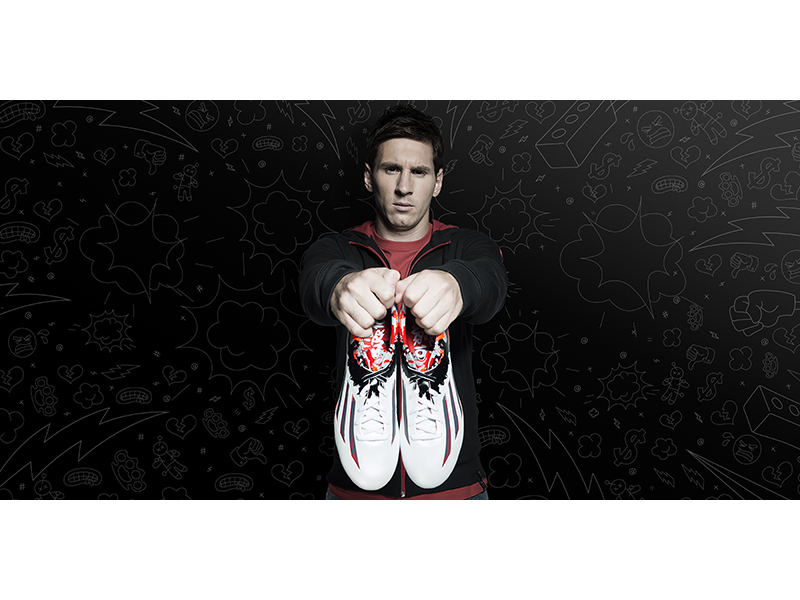 2015 so far has belonged to
Leo Messi
. No player in any major league has scored more goals than the Argentinian. Leo has been directly involved in 24 La Liga goals this year; no other TEAM has scored more. For club and country in 2015, Messi has played 17 times, scored 20 goals and grabbed 11 assists. His most recent hat-trick made him the all-time leader in La Liga hat-tricks, at just 27. Now, adidas has unveiled the new boots that will be worn by the world's best player. The new
Pibe de Barr10
, inspired by the Barrio of Las Heras, Rosario, where Messi learned to play the game.
Las Heras was where
Leo Messi
first began his journey to becoming the greatest player on earth. The streets and pitches of the Barrio are where he first shaped his game. The new Pibe de Barr10 were designed in collaboration with Rosario-born graphic artist Ignacio Valentini in a style that pays tribute to Messi's childhood. Fusing urban-inspired raw brush strokes with polished sleekness on the synthetic hybrid touch upper, the
Pibe de Barr10
embodies Leo Messi's footballing style; beautiful, yet dangerous.
Speaking about his new signature boots, Leo Messi said:
"I did leave Rosario when I was young, but I still have my people, my neighborhood, and my favorite spots. Pibe de Barr10 have a lot to do with my life, my childhood and a lot to do with me."
The world's best player Leo Messi will wear the new
Pibe de Barr10
from Wednesday 18th March, with the boots available to purchase the following day. For further information please visit
adidas.com/messi
or go to
facebook.com/TeamMessi
or follow
@TeamMessi
#ThereWillBeHaters
on twitter to join the conversation
contacts
Alan McGarrie

Global PR and Social Director for Football

Germany

+49 9132 84 4686

Robert Hughes

Managing Editor Global Newsroom

Germany

+49 9132 84 2352