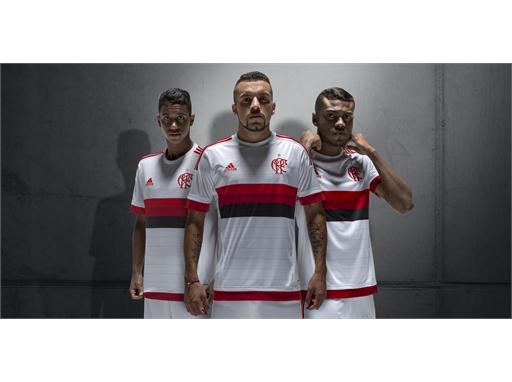 Rio de Janeiro/Herzogenaurach, 12th August 2015
, A club that blends tradition with modernity. Based on these two concepts, adidas and Flamengo launches the away kit for 2015.
The new uniform keeps white as the predominant colour - the club's traditional away colour - and the retro badge, used between 1895 and 1944.
A touch of modernity is delivered through small horizontal lines evenly spread on the shirt, and the imposing red and black band in the center, also used on the biggest clubs in the world, such as AC Milan and Bayern Munich.
"A big club like Flamengo deserves the best kind of uniform. This is the case of this new shirt, which features modern design and latest generation technology to improve the performance of athletes on the field." said Luiz Gaspar, football manager adidas Brazil.
The shirt is made with ClimaCool® technology that considers how and where the body produces more heat and sweat, putting specific tissues in these areas to improve ventilation. The material allows the athlete to stay time with ideal body temperature.
The on pitch reveal of the new kit will take place on Sunday 16th August against Palmeiras and will be available to buy from selected adidas stores, specialist sports retailers and e-commerce channels.
For further media information, visit
http://news.adidas.com/BR
contacts
Juliana Prando

MSLGROUP Espalhe

Brazil

juliana.lopes@espalhe.inf.br

0055 11 5105-2230

Juliana Monteiro

Analista de Amplificação

Brazil

juliana.monteiro@presspass.com.br

+55 11 3064 2144

Rafael Palmerias

-

United States

rafael.palmeiras@espalhe.inf.br

(11) 5105-2235