Timberwolves "Lights Out" Alternate Uniform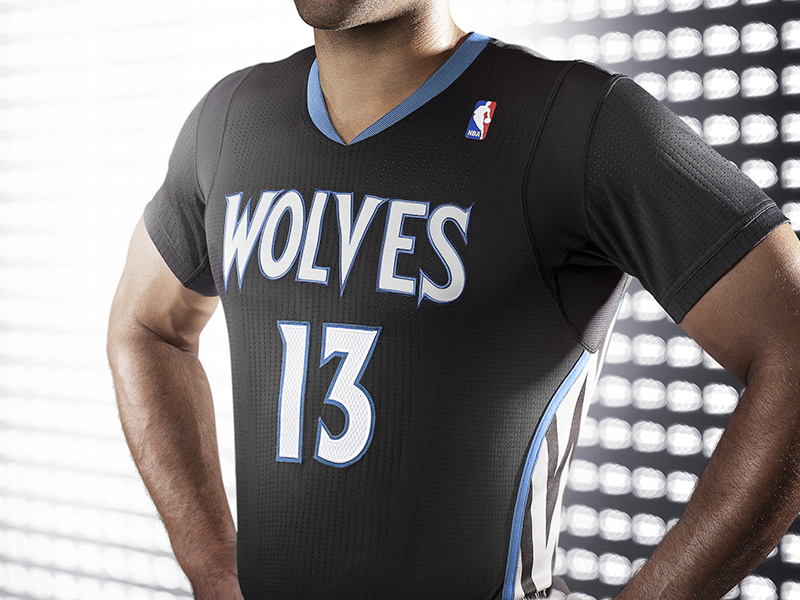 This season, the Minnesota Timberwolves debut all-new "Lights Out" alternate uniforms that will be worn for 10 games throughout the 2013-14 season.
The "Lights Out" uniforms will debut on-court on November 27 at home against the Denver Nuggets.
• Designed by adidas, the all-black short sleeve uniforms are inspired by the nightlife of Minneapolis
• The "Lights Out" uniform continues the black uniform tradition that pays homage to the rich, sophisticated nightlife of Minneapolis
• Uniforms feature a side panel with repeated "M" and "W" patterns to represent the team name
• The "Lights Out" uniforms continue adidas and the NBA's commitment to providing players with the most innovative technology so they are comfortable and confident to perform at the highest level
• The uniform is 23 percent lighter than the standard NBA uniform for optimum performance
• Uniform features max ventilation for comfort and 360-degree stretch fabric for free motion and range
The "Lights Out" jerseys are available Nov. 27 at timberwolves.com and NBAStore.com.
For more information, visit
news.adidas.com
and
facebook.com/adidasbasketball
, plus
@adidasHoops
on Twitter and Instagram.
contacts
Madeline Breskin

adidas PR Manager - Basketball

United States

madeline.breskin@adidas.com

971-234-2220