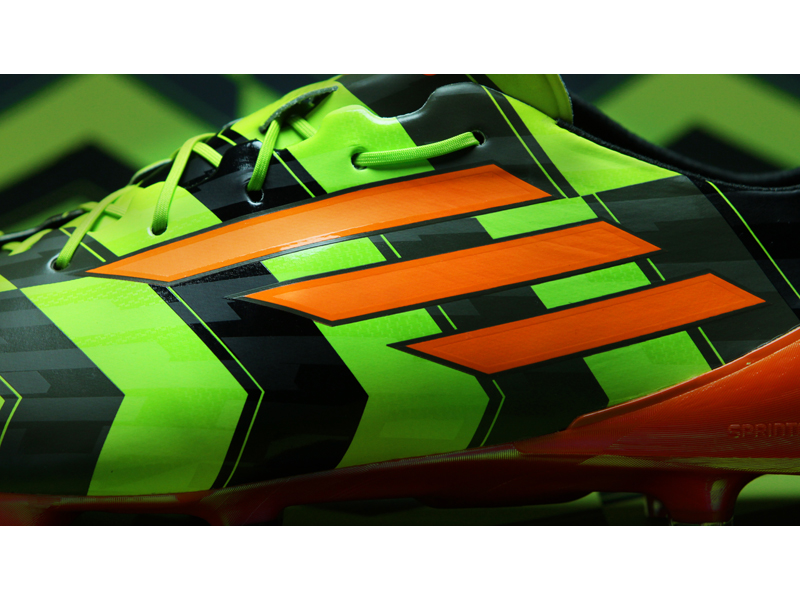 At an incredible weight of 135g, the
adizero™ f50 crazylight is the lightest commercial football boot produced… ever… and shaves an incredible 20% off the weight of the current inline adidas adizero™ f50.
The adidas Innovation Team has developed a totally new, innovative next-generation lightweight skin which drastically reduces the weight on the upper part of the boot, while still guaranteeing high quality and performance. The sleek black and green coloured arrow design showcases the perception of forward motion, finished off with bright orange adidas three-stripes.
In addition to new lightweight upper skin the
SPEEDTRAXION
stud configuration on the outsole has been rearranged in order to increase traction, while also further decreasing the overall weight of the boot. The pattern on the outsole is laser etched and a premium anodized coating is also added to minimise weight and guarantee a premium finish on the overall design. The base of outsole construction is the
SPRINTFRAME
, a strong but lightweight lower section that offers players a perfectly balanced boot.
The
adidas adizero™ f50 crazylight
is available from Tuesday April 1st for purchase in selected adidas retail outlets, associated stockists and via
www.adidas.com/football
. Join the adidas football conversation at
www.facebook.com/adidasfootbal
l or on Twitter: @adidasfootball #allin or nothing.
contacts
Alan McGarrie

Global PR and Social Director for Football

Germany

+49 9132 84 4686

Paulo Oliveira

Football Global PR team

Germany

paulo.oliveira@externals.adidas-group.com

+49 171 1069 152