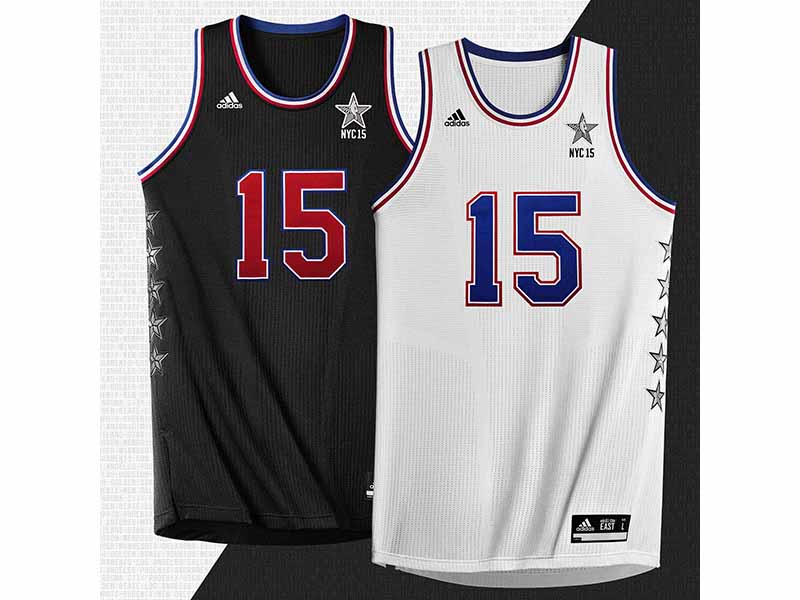 adidas, fornitore ufficiale della National Basketball Association (NBA), ha svelato oggi le divise per il 64esimo NBA All-Star Game che si svolgerà il prossimo 15 febbraio a New York.

Realizzate da adidas, le uniformi sono un omaggio alla storia della pallacanestro di New York e ai suoi distretti unici, incarnando la sua tradizione di mecca dello sport, della musica e dello spettacolo. Il design, pulito e senza tempo, è ispirato alle divise classiche del passato e alle squadre di basket itineranti dell'inizio del 20esimo secolo.

Le maglie presentano sui lati cinque stelle, rappresentanti i cinque distretti di New York ed ognuna ha un disegno unico:

- Queens: un design ispirato alle orbite in acciaio inossidabile dell'iconica Unisphere, costruita a Flushing Meadows – Corona Park per la Fiera Mondiale del 1964.

- Staten Island: un'onda, a simboleggiare le acque che lo circondano.

- Manhattan: un taxi a scacchi che rappresenta il ritmo e l'energia della città più cosmopolita del mondo.

- Bronx: un vinile, che omaggia il luogo dove è nato l'hip-hop e la ricca eredità musicale di New York City.

- Brooklyn: un mattone ispirato alle iconiche brownstone houses e agli edifici che compongono i quartieri del distretto più popoloso della città.

"L' All-Star Game NBA è una celebrazione della città ospitante e della cultura cestistica, e quest'anno abbiamo creato le divise più sofisticate e dettagliate, per omaggiare New York City" ha dichiarato Chris Grancio, adidas global basketball General Manager. "Abbiamo preso ispirazione da ognuno dei distretti e dalla ricca storia della pallacanestro della città per dare ai giocatori e ai fan una collezione memorabile."

Le divise della Eastern Conference presentano un lettering di colore nero per i nomi mentre i numeri sono di colore blu, invece quelle della Western Conference hanno i nomi in bianco e i numeri rossi. Dettagli a spina di pesce su stemma e jock tag rendono omaggio al parquet del Barclays Center, mentre il font dei New York Knicks è usato per i nomi dei giocatori e i numeri. Per la prima volta in un All-Star Game NBA, sul retro della maglia sono presenti nome e cognome dei giocatori.

I giocatori per il riscaldamento indosseranno delle tute nere, bianche e grigie con accenti satin e patch dallo stile militare per celebrare il numero di apparizioni all'All-Star Game NBA di ogni giocatore. La felpa sarà personalizzata con patch che rappresentano i riconoscimenti individuali conquistati come il Most Valuable Player, il Rookie of the Year, l'All-Star Game MVP ed i campionati NBA vinti. La divisa per il riscaldamento include anche pantaloni e una maglia con le maniche a tre quarti.