adidas Football presenta le nuove Ace16+ Purecontrol Ultraboost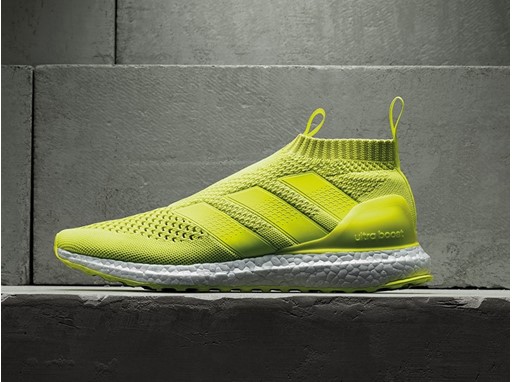 13 luglio 2016 - adidas Football ha presentato oggi una rivisitazione delle ACE16+ PURECONTROL, pensata per essere indossata fuori dal campo di gioco. Le ACE16+ PURECONTROL UltraBOOST uniscono la tomaia in Primeknit di adidas Football con BOOST, tecnologia leader nel mondo del running e utilizzata da adidas Running nei suoi prodotti, per venire incontro alle esigenze dei calciatori al di fuori del campo.
Le ACE 16+ PURECONTROL UltraBOOST saranno disponibili nella colorazione solar yellow, la stessa dello Speed of Light pack, e nella versione "blackout". Con questa scarpa il brand leader mondiale nel football, per la prima volta, reinterpreta una scarpa da calcio in versione lifestyle. Questo è l'inizio di un nuovo focus, che vedrà i prossimi prodotti da calcio essere accompagnati da versioni simili per la vita fuori dal campo.
Sam Handy, adidas Football Vice President of Design ha dichiarato: "Sappiamo che la vita di un calciatore va oltre quello che accade sul terreno di gioco. La ACE 16+ PURECONTROL Ultra Boost prende la migliore tomaia di adidas Football, il meglio di adidas Running e per la prima volta li unisce.
Abbiamo creato qualcosa che sia i calciatori che i fan volevano vedere. Abbiamo capito che la gente adora indossare le nostre scarpe da calcio, e vuole farlo anche al di fuori del campo. Quindi inizieremo a far seguire, alle versioni da gioco, delle versioni lifestyle: è l'inizio di un viaggio emozionante".
Per maggiori informazioni visitate adidas.com/football oppure andate su facebook.com/adidasfootball​, o seguite @adidasfootball​ su Twitter per unirvi alla conversazione.
download comunicati stampa
contatti
Rita Addesa

Publishing Manager Football

Italy

0039-039-27151