adidas Football presenta le nuove scarpe da calcio Speed of Light per la stagione 2016/17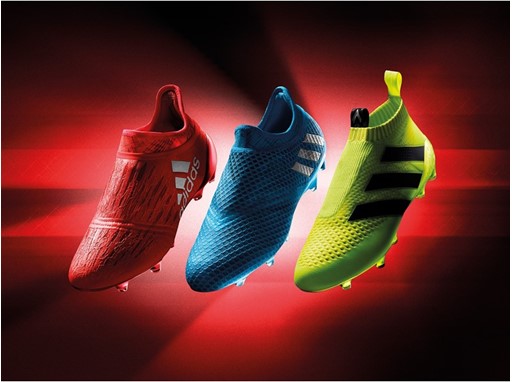 - Lo Speed of Light Pack comprende le X16+ PURECHAOS, le ACE 16+ PURECONTROL e le MESSI 16+ PUREAGILITY nelle colorazioni Solar Red, Solar Yellow e Shock Blue–
12 luglio 2016 – adidas Football ha svelato oggi lo Speed of Light Pack, le scarpe da calcio che saranno utilizzate a partire dall'inizio della stagione 2016/17.
Ispirate dai colori creati dalla rifrazione della luce, le scarpe, disponibili nelle colorazioni Solar Red, Solar Yellow e Shock Blue, sono rispettivamente X16+ PURECHAOS, Ace 16+ PURECONTROL e MESSI 16+ PUREAGILITY.
Le X16+ PURECHAOS – progettate per i giocatori più veloci al mondo – hanno una nuova colorazione Solar Red per rappresentare la velocità massima. Le scarpe più leggere e aerodinamiche di adidas sono dotate del PURECUT SOCK SYSTEM, che copre i lacci per dare ai calciatori il fit incredibile che solo questo modello può garantire. Saranno indossate da Gareth Bale e Luis Suarez.
Le ACE 16+ PURECONTROL - le scarpe più innovative nell'industria sportiva e primo modello laceless adidas ad alte prestazioni - sono state prodotte nella colorazione Solar Yellow, a forte impatto. La tomaia in Primeknit e la tecnologia NON STOP GRIP (NSG) presentano una superficie più ampia e impareggiabile per un controllo di palla perfetto. Le ACE 16+ PURECONTROL saranno utilizzate da fuoriclasse come Paul Pogba e Ivan Rakitic.
Le MESSI 16+ PUREAGILITY hanno ricevuto un trattamento Shock Blue. Ispirate al miglior giocatore al mondo, le scarpe presentano il sistema di allacciamento interno PURECUT e un innovativo SPRINTFRAME, disegnato per garantire stabilità e trazione con il minor peso possibile.
Sam Handy, Vice President of Design ha dichiarato: "Speed of Light Pack è la collezione di scarpe più dinamica che adidas abbia mai lanciato, creata per aiutare i giocatori ad emergere e dominare in campo. Composto dalla scarpa più veloce che abbiamo mai creato, da quella che garantisce massima agilità e da quella che porta il controllo di palla a un livello superiore, lo Speed of Light Pack sarà fondamentale per decidere alcune delle più importanti partite tra i migliori giocatori al mondo".