Claudio Bravo
Jugador Copa Mundial FIFA Brasil 2014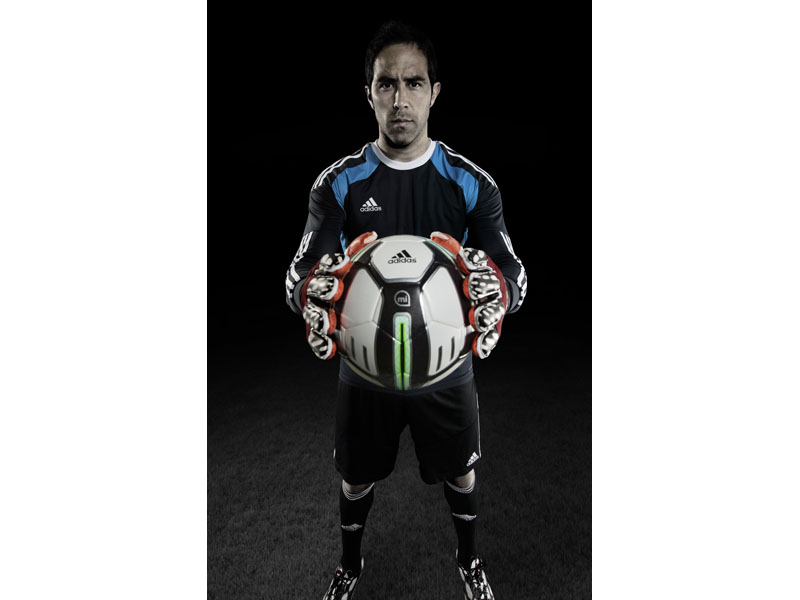 This will be your second World Cup – how much fun was Chile's charge through a tough group at South Africa 2010?

We really enjoyed it and I think we surprised a few people. We finished on six points, the same amount as Spain got, and it was only goal difference that stopped us winning the group – even though I'd kept two clean sheets, against Honduras and Switzerland, we let in two against Spain. There's no shame in that! We really showed what Chile can do, but unfortunately we met Brazil on top form in the round of 16.

It shows the importance of winning your group, though because second place pits you against someone tricky.

Yes. If we'd have topped the group then we would have played Portugal. Still a very tough side to face but we may have had a better chance of making it to the last eight. Still, that is in the past now. We move on and try to do better this summer.

And your performance against Switzerland, Honduras and Spain in that tournament show that Chile can compete…

It did show that and people back home were happy with us. Marcelo Biesla really knocked the team into shape, and we proved we are a fine football nation. We outplayed Honduras, and the Swiss, a very good European side. And we matched the World champions and eventual winners for a long time.

Biesla is gone, and a little bit of an unsettled period under Claudio Borghi, new boss Jorge Sampaoli has improved things significantly again…

Yes. It was a tricky time for a while, but under the new manager the squad is very happy once again. We have performed very well again, against some very big sides. Sampaoli is very similar to Biesla, he likes us to play in the same way, and that suits us and pleases us. It plays to the natural Chilean game, and we are excited to bring that to the World Cup.

In a 1-0 defeat to Germany recently, Joachim Low said his team had rarely been put under such pressure…

Yes, we did excellently in that game. We pressed and pressured all over the pitch and the Germans didn't like it. We should have beaten them but didn't take our chances.

That's key at a World Cup though – you need to grind out results and be winners even when you're getting outplayed.

It's very true. We have learned from that, and it's all down to you as individuals. If you're a forward and you get a chance against a Germany or a Spain, you need to take that chance – because you don't know when you'll get another one. And as a goalkeeper you need to make every save that is thrown at you, because it can turn a match.

With Spain and the Netherlands in the same group, people are writing off your chances of getting out the group. Is that unwise?

I'd say it is unwise. Yes, they are big European nations and got to the final last time around. But playing against sides who like to be patient and keep the ball actually suits Chile. We play fast and furious and we can fluster these teams. I think we can unsettle them and cause chances for our forwards. They should be very interesting matches.

It's important that you stay disciplined, though, and don't lose players to red cards and suspensions.

Yes, sometimes we have given away too many fouls, and we don't want that changing games in a negative way. Our record needs to improve on that front.

You've got a newly confident forward in Eduardo Vargas, too, what do you put his form down to?

His form has been very good for us. He was coached by our boss at Universidad de Chile and I think the reunion has done him good. It has brought the best out in him and I think he'll score goals at this World Cup, because he's extremely sharp at the moment.

If you get through in second place, the possibility of facing Brazil again looms. Is that a worry?

We have to put out of our minds the 3-0 loss at the World Cup and concentrate on playing our best game if that happens. We played Brazil last November and it was 2-1 to them, a very close game, and I think we can get a result against them on our day. They are under a lot of pressure to succeed at home, so we can maybe take advantage of that. I don't think Brazil will like facing a South American side in the knock out stages – it will worry them.

Are you happy to be playing on your home continent, meanwhile, and can it give you an advantage?

Yes, it will be nice for us, not being too far away from home. It will help us with our preparations and it will be more comfortable and familiar than many other countries. I hope it can work to our advantage.

You've been playing in Spain with Real Sociedad for eight years. That must have given you a good chance to assess some of La Liga's key dangermen who will be lining up this summer…

Yes. Leo Messi, Cristiano Ronaldo, Diego Costa, Xavi, Iniesta, David Villa – I have faced them all. Sometimes they score and sometimes I keep them out, but it's useful to face top class forwards every week. You learn a lot about their games and hopefully as a goalkeeper you can use that to your advantage.

Do you think Spain are going to make it an amazing four trophies in a row?

They are quietly confident, I think. This Spain side isn't cocky, and that's one of their assets. They don't assume they're going to win, but they know they have a side that can go all the way, and they have the experience of doing it.

How is the mood in Spain?

The fans in Spain certainly believe they've got a great chance, and why wouldn't they? They can barely remember losing. But it is our job to try and put them out in the group stages by beating Spain. The whole world will thank us if we contribute to that!

Who is the best goalkeeper in the tournament?

Manuel Neuer is the one a lot of people will point towards, but there are many great keepers. Belgium have an amazing young talent in Thibaut Courtois, but you should also look out for Colombia's keeper, David Ospina. He's one of the best about.

You're into Twitter. Can we follow your World Cup adventures @C1audioBravo this summer?

Definitely. Twitter is a lot of fun and it's a good way for us to connect with our fans back in Chile. I will tweet some pictures and news during the competition, and maybe answer some questions.

How crazy will the scenes be back in Chile when you are playing?

It will be out of control. Chileans are just like any other South Americans, they live for football. And they believe in this side. They see our speed and strength, and they truly think that we can cause some upsets in Brazil. We need to take heart from that belief and make them dream.
contactos
Jessica Pazos

Director of Publishing - adidas Latin America

Panama

jessica.pazos@adidas-group.com

+ 507 377 33 34