Juan Cuadrado
Jugador Copa Mundial FIFA Brasil 2014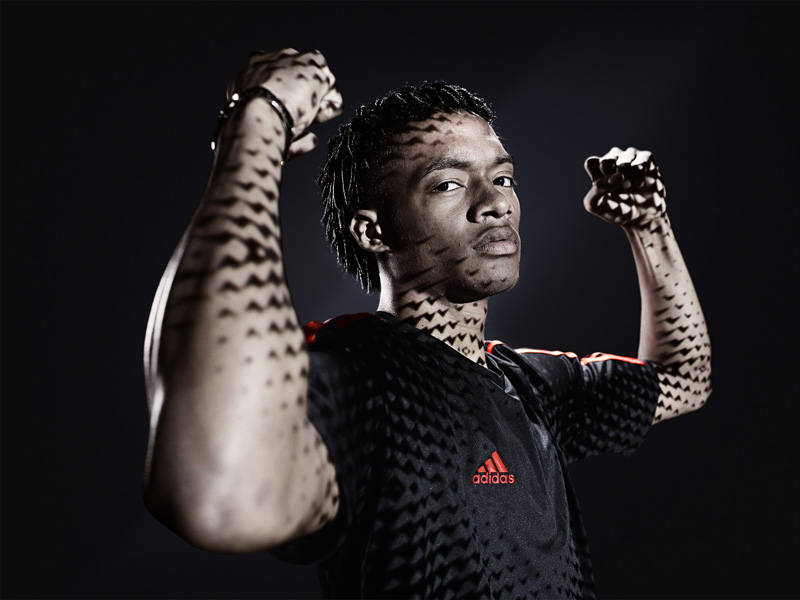 Things have gone almost unbelievably well for you since you broke into the Colombia international side…

Yes, I have to say I couldn't be happier with how it has worked out for me so far. I got my debut against Venezuela in 2010, and I scored that day and was man of the match. It's not what I was expecting to happen, even in my dreams at night, so I am very thankful that I've been able to do so well.

Jose Peckerman seems to believe in your abilities, has that been a big confidence boost for you?

He does, and so do I. I am a confident player, and that's something you need as a player on the wing. You have to go at people, run at full backs, try to defeat them, and it's not something you an do half-hearted. But I have good pace and I can dribble the ball well, deliver decent passes and score goals, so I always try to play with a bit of confidence. It's the only way to be.

You dribble more than pretty much any player out there, are you always looking to attack?

It's what I like to do, and it gives Colombia options. We are a nation that loves to keep the football and play possession, and I like to do that. But at the same time if you can beat men, get in behind defences with dribbles, you need to use that weapon. It gives the teams we play trouble, because we can play a number of different ways, and we can also sit back and hit you quickly on the break. Nobody will want to play Colombia.

You even weigh in and perform a lot of defensive duties, for a very forward-thinking player…

That is something we are also taught, and our manager is very strict on that. The midfield and forwards need to play their part in pressing and winning the ball back. It's the modern way of playing and I'm happy to do it, because it's a team game. You can't just stroll around when you don't have the ball, just because you're an attacking player. I have played as a right back, where your main duties are defensive, so it's something I feel that I know how to do effectively.

Being versatile means playing more games.

It does, and that's what I want to do. I will play up front, on the wing, as a playmaker, as a full back, it does not matter to me. You can even put me in goal.

We think David Ospina might object to that.

And rightly so – I think he is the best goalkeeper in the world. Forget Buffon, Neuer, Lloris, Colombia has the best goalkeeper in the world.

That could come in handy for a penalty shoot out, which is not an uncommon thing at a World Cup…

Yes. If we went to a shoot out in the knockouts, I'd be very confident in David. He reads forwards brilliantly, he gets down to shots lightning fast, and he has super-quick reflexes. You have to do that little bit extra to score past David – I know that from playing against him in training. He is special.

And you've had two very successful seasons with the Italian side Fiorentina, too, after playing for Lecce and Udinese.

I feel very much at home in Florence. It is a beautiful place to be and a beautiful place to play football. I've been able to score some goals and put some decent performances in for my side. It makes me very happy.

And Colombians as a nation are celebrating, too, now that you're back in the World Cup after a long absence…

Any Colombian will talk forever about football and how the national side should have been in many more World Cups, and done well in them. We have not achieved enough to match the skilful players we have in our side. It's time to change that.

You were only nine when the country last qualified, do you remember watching the tournament?

Yes, I tuned in fanatically with my family and watched every game. It was terrible how we didn't keep going in that tournament, and it is of course much worse what happened to Escobar afterwards. As Colombian players we now feel a responsibility to put Colombian football back on the map in a positive way. We do it for the people, to make them proud of their footballers again.

How do you rate your adopted homeland Italy's hopes of raising a fourth World Cup this summer, have they got a chance?

I like the way the Italians play football, with a clever possession game. It is very much the way that Colombians like to play, too. Italy have been world champions before and there is no doubt that they'll do it again, but for me this summer is about the South American sides more. Brazil, Uruguay, Colombia and Argentina will all be thinking about winning. If a European side is going to win, it will probably be Spain again. Italy will come strong again but for me a South American side is going to win this summer.

You are being heavily linked to a move to the Premier League. Is that something you would like to consider?

It would be superb to play in England at some point. I watch the league and it is so quick, so exciting, I think it would suit my pace and my game. But I'm not looking for a move away from Florence, because I love it here. If it happens, it happens. I'm still young and it would be good to taste a few different leagues.

You keep up to date on Twitter, will you be tweeting any Colombia news during the tournament?

I won't be tweeting tactics or team sheets but I'll be posting up some pictures of Brazil, that is for sure. It's a great country and I'm looking forward to spending time there.

You're almost as famous for your dancing as your football. Are you developing a special dance to use if you score in Brazil?

I might well do that. Scoring in the World Cup is right at the top of the list of things I'd like to do, and it would therefore need a very special celebration. So let's see what happens if I get one.

You could dance a Samba, seeing as you're in Brazil…

I can do a little Samba, so maybe I might!

And they'll be dancing back at home in Colombia if you win a few games.

The only regret I have about playing for Colombia is that it I not also possible to be back home in Colombia watching the side play with the supporters – or in the stands. We have the best supporters around and it is hard to explain how much it means to our fans to be back at the World Cup. I've heard about nothing else from family and friends since we qualified, so we need to live up to their expectations. The partying will be richly deserved if we do well, because our fans have followed us through everything, good times and bad.
contactos
Jessica Pazos

Director of Publishing - adidas Latin America

Panama

jessica.pazos@adidas-group.com

+ 507 377 33 34