adidas şi Parley For the Oceans expun la evenimentul Naţiunilor Unite inovaţia în sustenabilitate privind schimbările climatice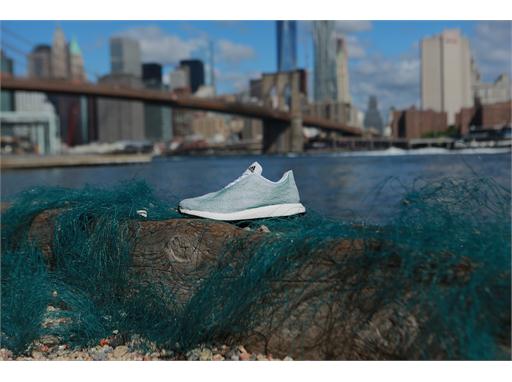 adidas a sărbătorit parteneriatul cu Parley for the Oceans, la sediul central al Naţiunilor Unite, şi a expus un concept inovator de pantof sport, conceput datorită acestei colaborări.
Parley for the Oceans este o organizaţie în care oameni din industrii creative, dezvoltatori şi lideri se reunesc pentru a sensibiliza audienţa în privinţa situaţiei actuale a oceanelor şi pentru a colabora pe anumite proiecte care au scopul de a le proteja şi conserva. În calitate de membru fondator, adidas sprijină Parley for the Oceans în procesul de educare şi comunicare, precum şi programul Ocean Plastic, al cărui obiectiv este de a pune capăt poluării cu plastic a oceanelor.
Tratativele Parley denumite "Oceans. Climate. Life." au fost găzduite de Naţiunile Unite la General Assembly Hall, în New York, cu ocazia unui eveniment important ce vizează schimbările climatice, comunicate de Preşedintele General Assembly. Mai mulţi ecologişti, creatori, oameni de ştiinţă şi antreprenori au trecut în revistă situaţia dezastruoasă a oceanelor şi a schimbărilor climatice, în timp ce colaboratorii Parley şi-au exprimat viziunile, iniţiativele, proiectele, invenţiile şi soluţiile.
La evenimentul UNxParley a participat un număr restrâns de jurnalişti, unde membrii conducerii adidas, responsabili pentru brandurile globale Eric Liedtke şi Cyrill Gutsch, fondatorul Parley for the Oceans, au discutat despre parteneriat şi au dezvăluit prototipul inedit al modelului de pantof sport. adidas a creat în premieră un pantof sport confecţionat în întregime din ţesături şi fibre recuperate şi reciclate din deşeuri oceanice şi din plasele de pescuit folosite de braconieri. Organizaţia parteneră cu Parley, Sea Shepherd, a recuperat plasele de pescuit în urma unei expediţii de 110 zile. Expediţia a avut scopul de a depista vasele de braconaj şi s-a încheiat pe coasa de Vest a Africii.
Conceptul pantofului sport ilustrează drumul pe care adiads şi Parley for the Oceans îl urmează, înainte ca produsele confecţionate din deşeuri oceanice să fie dezvăluite în decursul acestui an.
"La Parley for the Oceans încercăm să demonstrăm că oceanele reprezintă un element esenţial în dezbaterea privind schimbările climatice. Obiectivul nostru este să captăm interesul public şi să atragem noi colaborări care pot contribui la protejarea şi conservarea oceanelor. " a declarat Cyrill Gutsch. "Ne mândrim cu faptul că adidas ni s-a alăturat în această misiune şi contribuie creativ la acest parteneriat, pentru a arăta că este posibil să transformăm deşeurile oceanice în ceva cool."
"Suntem foarte încântaţi să ne alăturăm comitetului de conducere Parley for the Oceans, deoarece ei aduc în atenţia Naţiunilor Unite problemele oceanelor. adidas a fost dintotdeauna un lider al sustenabilităţii, iar acest parteneriat ne permite să acoperim noi domenii şi să creăm materiale inovatoare şi produse pentru sportivii noştri. Invităm pe toată lumea să ni se alăture în această aventură de curăţare a oceanelor." a declarat Eric Liedtke, la rândul său, membru  al comitetului de conducere Parley for the Oceans.
contacte
Roxana Firoiu

PR Manager

Romania

+40 0728 300 999