David Beckham participă în ultimul episod al show-ului dedicat Cupei Mondiale din Brazilia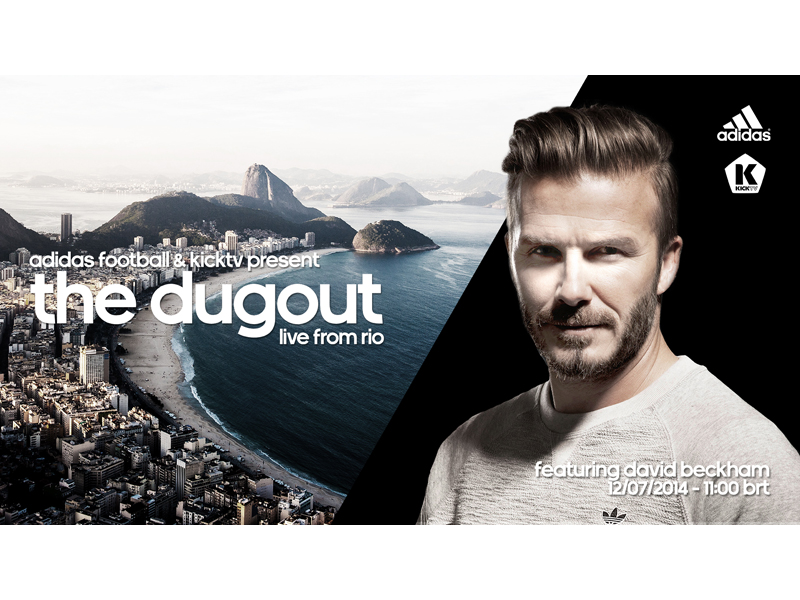 Legenda Angliei strălucește în ultimul episod The Dugout dedicat Cupei Mondiale din Brazilia
În ajunul finalei Cupei Mondiale, adidas invită toți fanii să se alăture ultimului episod din seria The Dugout, difuzat pe YouTube.
Începând cu ora 17:00 (ora României), ultimul episod din seria de show-uri Dugout îl va avea invitat pe celebrul David Beckham. În timpul show-ului, Beckham va răspunde live întrebărilor primite și va împărtăși impresiile despre competiția acestui an, rememorând propria experiență cu ghetele de fotbal adidas Predator. Astfel, legendarul David Beckham marchează aniversarea adidas Predator de 20 de ani.   
Pentru a urmări The Dugout accesați canalul dedicat YouTube adidas, începând cu 12 iulie 2014, ora 17:00 (ora României).
Găzduit de KICKTV și moderat de Layla Anna-Lee și Hugh Wizzy, show-ul The Dugout reunește milioane de iubitori ai fotbalului și îi aduce mai aproape de legendele de pe teren, oferind dezbateri, imagini și reacții ale atmosferei din Brazilia, atât de pe teren, cât și din afara lui. Episoadele au fost difuzate pe parcursul Cupei Mondiale, în platou fiind prezenți fotbaliști celebri precum Cafu, Fernando Hierro, Patrick Vieira și Kaka.
Emisiunea va prezenta un nou episod din adidas miCoach Smart Ball Power Challenge. Mingea inteligentă încorporează o serie de senzori care permit măsurarea vitezei, curbei, traiectoriei și efectului mingii, iar provocarea i se adresează lui Kaka, ce va încerca să doboare recordul de viteză de 111 kph impus de Patrick Vieira. În plus, emisiunea va prezenta reportajul efectuat în urmă cu o săptămână de FIFA Interactive World Cup cu ocazia desemnării unui nou campion mondial, ceremonie ce a avut loc pe platoul muntelui Sugarloaf.
Show-ul va fi difuzat live atât pe canalul YouTube dedicat adidas cât și pe rețelele sociale adidas începând cu ora 17:00 p.m, înainte de mare finală. Pentru vizionare accesați https://www.youtube.com/watch?v=PNgG5wtBZdI.
Alăturați-vă conversațiilor despre fotbal pe Facebook www.facebook.com/adidasfootball sau Twitter @adidasfootball.
Date de difuzare
The Dugout – 12 iulie 2014
VIDEO URL: https://www.youtube.com/watch?v=PNgG5wtBZdI
contacte
Roxana Firoiu

PR Manager

Romania

+40 0728 300 999