Colecția Samba pentru Cupa Mondială FIFA 2014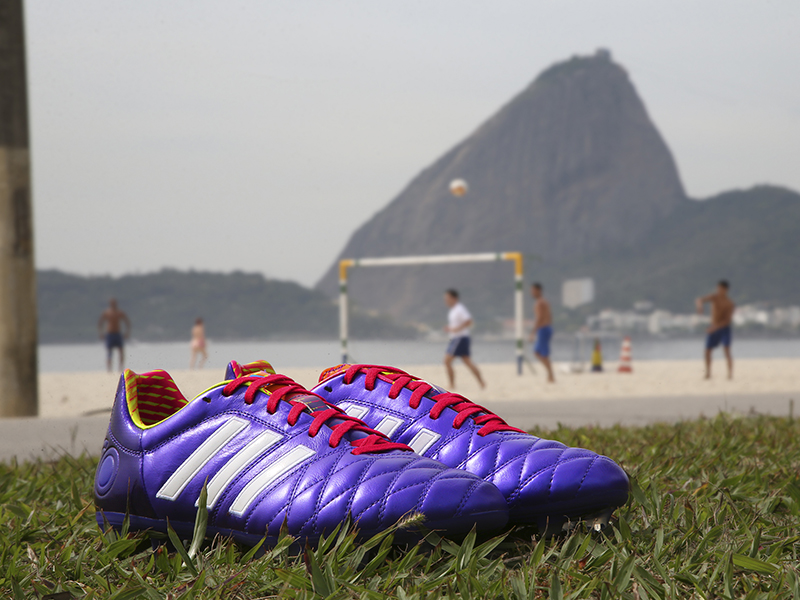 adidas lansează astăzi colecţia de ghete de fotbal Samba, care își propune să celebreze energia și exuberanța națiunii gazdă a Cupei Mondiale. Pentru prima dată în istoria adidas, în colecția Samba se regăsește câte un model nou și reinterpretat din cele patru game de ghete:
adizero™ f50, predator®, nitrocharge™ și 11pro.
Fiecare gheată a fost gândită astfel încât să aibă propria personalitate, dar și tehnologii de ultimă oră, pentru a-i ajuta cât mai mult pe jucătorii de fotbal.
Lansarea colecţiei Samba marchează startul campaniei adidas
All in or Nothing
, gândită special pentru Cupa Mondiala FIFA Brazilia 2014. În cea mai mare competiție mondială, cele mai bune echipe joacă pentru cea mai importantă miză. Daca nu esti mai bun, jocul se termină –
Game on or Game Over
. În campania adidas vor fi implicați jucători de la Leo Messi și Oscar la Dani Alves si Mesut Ozil.
nitrocharge™nitrocharge™
asigură și menține energia unei noi generații de jucători, precum Dani Alves sau Ezequiel Lavezzi. Noul design pentru Cupa Mondială propune o gamă de culori care ies foarte ușor în evidență –nuanțe de verde lime. Samba
nitrocharge™
a fost creată pentru jucătorul plin de energie, care aleargă tot timpul și îl încurajează să se dedice total jocului:
Full on or be Gone
. Tehnologia
ENERGYSLING™
permite executarea mișcărilor de precizie, iar
ENERGYPULSE™
asigură energia necesară în timpul alergării.
adizero™ f50
Gheata
adizero™ f50
este preferată de jucători precum Leo Messi, Lucas Moura şi Gareth Bale, le oferă fotbaliştilor posibilitatea să fie și mai rapizi. Sub mottoul
Fly or Die
, noua gheată îmbină tehnologia cu fiecare aspect al designului, pentru a-l ajuta pe jucător să își atingă viteza maximă pe teren. Tehnologia
SPEEDTRAXION
permite accelerare maximă și precizie la schimbarea de direcție, iar
SPEEDFOIL
este un material revoluționar, care îmbină greutatea redusă, durabilitatea și textura pentru a asigura confortul în timpul jocului. Gheata Samba
adizero™ f50
le garantează jucătorilor de primă clasă că vor fi mai rapizi ca niciodată la Cupa Mondială din Brazilia.
predator®LethalZones
Paleta de culori a ghetelor Samba
predator® LethalZones
, preferate de Oscar, Mesut Ozil şi Fernando Torres, îşi îndrumă purtătorii să aibă atitudinea unui prădător veritabil, în care vânezi sau devii la randul tău vânat -
Hunt or be Hunted
. Cele cinci zone special concepute pentru un control mai bun al jocului fac din această gheată partenerul potrivit al performanței.
11pro
Cu o culoare extravangantă, ghetele Samba
11pro
sunt purtate de Phillip Lahm, Hernanes şi Frank Lampard. Modelul păstrează principalele atribute care le permit jucătorilor să evolueze la nivel maxim: Faci jocul sau te dai la o parte –
Make the Play or MakeWay
. Confecţionate din piele Taurus ultra-fină şi ultra-moale, noile ghete le asigură jucătorilor confortul necesar, precizie, aderență, accelerare, ceea ce le transformă în alegerea perfectă pentru un fotbalist desăvârșit.
Antoine Hadjimanolis
, Global Senior Product Manager adidas Football a declarat:
"Pentru colecţia Samba, punctul nostru de inspirație a fost, bineînțeles, Brazilia. Totul este colorat, plin de energie şi personalitate, ca şi Brazilia, de altfel. De la plajele din Bahia şi până la Carnavalul de la Rio, ghetele noastre vor avea tonuri şi culori nemaivăzute vreodată la nişte ghete de fotbal."
Colecția Samba se lansează astăzi împreună cu un spot de inspirație braziliană ce prezintă jucătorii cheie care vor purta ghetele. Pe coloana sonoră a versiunii de 90 de secunde a spotului este melodia "BOTA", de la cunoscutul proiect muzical
Buraka Som Sistema,
în parteneriat cu MC
Karol Conka
(cult.cartel). Karol a scris versurile și a apărut și în clip, adăugând o savoare locală acestuia. Melodia poate fi descărcată de pe canalul adidas Football Sound Cloud începând de astazi:
soundcloud.com/adidasfootball.
Unii dintre cei mai buni jucători de fotbal din lume vor purta ghete din noua colecție adidas Samba, care va fi disponibilă în magazine începând cu 14 noiembrie.
Mai multe informații sunt disponibile aici:
news.adidas.com/RO
,
adidas.com/football
sau pe
facebook.com/adidasfootball
.
contacte
Suzana Rosca

adidas Romania

Romania

+4021 306 79 14

Ioana Plopeanu

Public Relations Manager

Romania

004021 314 6615

0040730 714 433