ADIDAS ATHLETICS INTRODUCES BRAND-NEW ADIDAS Z.N.E. HOODIE FAST RELEASE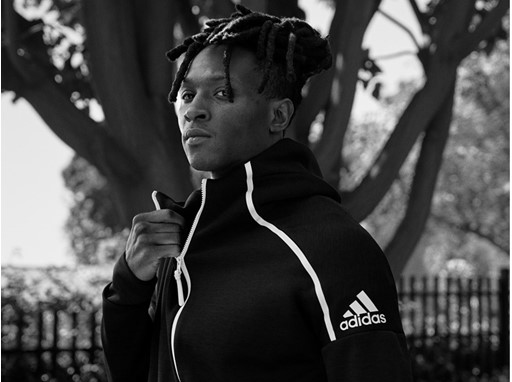 Inspired by and designed for athletes who are born ready for anything, in any moment
Rip ready – the new adidas Z.N.E. Hoodie Fast Release can be taken off in one quick move, with a new fast-release zipper that's ready when you are
Featuring global sporting superstars Karim Benzema, Garbiñe Muguruza, DeAndre Hopkins and Julie Jaws Nelson, the new campaign celebrates the always-ready athlete
Herzogenaurach, August 2, 2018 – Today, adidas Athletics launches the brand-new adidas Z.N.E. Hoodie Fast Release, inspired by and designed for athletes who need to be ready for anything life and sport throws at them.
Celebrating athletes who live their sport in every moment of their lives, adidas Athletics have updated the iconic Z.N.E. Hoodie with a fast-release zipper, so that they can be ready for action in one easy move. Whether athletes need to deliver physically or mentally, the new hoodie allows them to step up to the challenge as soon as the moment arises.
To launch the new hoodie, adidas Athletics revealed a new campaign featuring global sporting superstars Real Madrid footballer Karim Benzema, world number 3 tennis player Garbiñe Muguruza, Houston Texans American footballer DeAndre Hopkins and multi-talented female athlete Julie Jaws Nelson. The campaign showcases how these athletes express their born-ready attitude throughout every aspect of their lives. Championing these extraordinary athletes in ordinary, candid moments, the campaign demonstrates how with the adidas Z.N.E. Hoodie Fast Release they are never more than a rip away from action.
DeAndre Hopkins, Wide Receiver for the Houston Texans, said: "You know what they say, life comes at you fast. There is no off season in football or in life, so I stay ready for whatever might come my way with the adidas Z.N.E. Hoodie Fast Release."
Featuring a fast-release zipper, the style-led, high-performance adidas Z.N.E. hoodie can be opened in one quick move. An improved shape and construction of the hood allows for a more precise fit, and the iconic white logo and line along the shoulders add stylish detail. Crafted from a super-soft, fully sustainable polyester fabric, the reduced-weight hoodie features Climalite technology for moisture management and enhanced comfort in all conditions. Completing the look is the loose fit, soft rib collar adidas Z.N.E. Tee and the soft double knit adidas Z.N.E. Pant, which both feature the same sustainable lightweight Climalite material and iconic white logo and line detailing that is characteristic of the collection.
Michael Kresser, Vice President Product adidas Athletics, said: "No matter if you are dealing with the challenges of life or sport: sometimes you have to be ready fast. The adidas Z.N.E. Hoodie Fast Release allows all athletes to be ready in a split second, enabling them to focus 100% on the things that matter."
Christina Schramm, Senior Design Director adidas Athletics, added: "To create a product for the athlete who needs to be ready at any given time we integrated the fast-release zipper. Instead of unzipping, the hoodie can be ripped off in a second. We paired this with an improved hood shape and Climalite technology, for extra comfort, and added iconic white detailing to create a statement piece that can be worn on the street and on the field of play."
As a gesture that unites all athletes and football supporters, adidas Athletics will release a football club edition adidas Z.N.E. Hoodie Fast Release during the UEFA Champions League this September in colours synonymous with some of the best football clubs in the world.
The adidas Z.N.E. Hoodie Fast Release will be available starting today in the US for $120 on adidas.com and available worldwide from August 30, 2018.
contacts
Margaret Bourn

Women's PR

United States

margaret.bourn@adidas.com

+1 212-352-6129