adidas Redefines the Future of Women's Running with PureBOOST X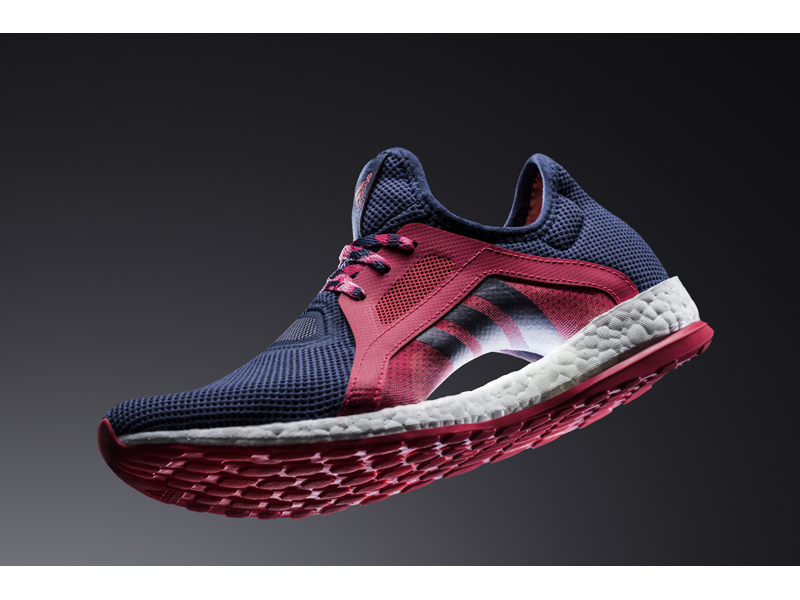 NEW YORK/Portland, Ore., January 28, 2016 – adidas has teamed up with female athletes from around the world to deliver PureBOOST X, an innovative running shoe designed only for women. PureBOOST X features a first of its kind floating arch that hugs the foot and provides support throughout any run. The sleek, form fitting shoe is built to meet the demands of an active lifestyle.
While most running shoes are adaptations of male shoes PureBOOST X was designed with only the female athlete in mind resulting in a high performance meets high fashion shoe for women. adidas designers used Aramis, a state of the art motion tracking technology, to study the female foot and how it moves during running to create the ultimate women's running shoe. The contours of the female foot inspired the design of the shoe's unique floating arch detail. The adaptive stretch mesh of the floating arch wraps underneath the midfoot delivering a supportive sensation you can feel during every run. The unique design allows for a more comfortable fit that works with the natural movements of the foot.
"The most common feedback we received during our years of working with female athletes was the desire for a running shoe with looks to keep up with the energy of its performance," said Jennifer Thomas, Senior Director for Global Brands, Running. "PureBOOST X is a product of innovation and style working in perfect harmony to meet the demands of today's versatile female athlete."
The stretch mesh upper rests on a full length bed of thousands of energy infused BOOST foam capsules. The BOOST midsole unleashes energy more efficiently in every stride and provides more energy return than any other foam cushioning material in the running industry. The upper, floating arch and lock down lacing system provides an adaptable fit that hugs the foot from heel to toe. The Stretch Web outsole is designed to allow for flex at any point enabling the foot to maintain its natural motion.
The introduction of PureBOOST X extends its design credibility with an adidas by Stella McCartney version featuring fashion forward treatments by the world renowned designer. The adidas by Stella McCartney PureBOOST X combines trend elements with performance. Showcasing Stella's design expertise, the shoe pairs an adidas primeknit upper and extended lacing details for extra support without compromising on style.
"I designed the adidas by Stella McCartney PureBOOST X alongside female athletes to capture their individual energy and provide them with a product that enhances their confidence to surpass their personal best every time," said Stella McCartney. "PureBOOST X allows female athletes to perform with a relentless determination without sacrificing on style."
adidas PureBOOST X will be available in three colorways (Raw Purple/Raw Purple/Shock Red, Black/Shock Green/Black and Mineral Blue/Mineral Blue/Halo Pink) for $120 on adidas.com​ and retailers nationwide starting February 1. The adidas by Stella McCartney version will be available in two colorways (Dark Blue/Granite/Dark Blue and White/Dark Blue/White) on adidas.com​​ and select retailers for $170 starting February 15.
Watch PureBOOST X in action and join the adidas Energy running movement by following @adidasrunning on Twitter and Instagram using #PureBOOSTX.
contacts
Margaret Bourn

Women's PR

United States

margaret.bourn@adidas.com

+1 212-352-6129