adidas Serves Up New D Lillard 2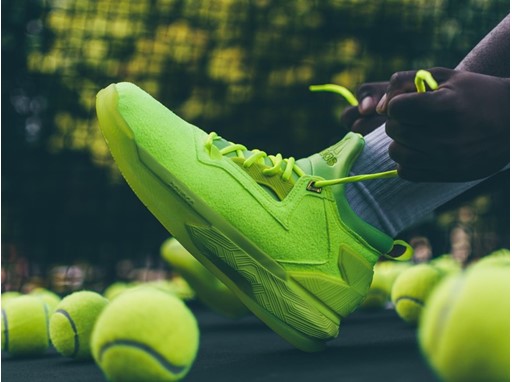 Creating a name as one of the most personal athletes in the league, Damian Lillard continues to connect with fans and paint pictures of his experience growing up in Oakland. Extending his story from the court to his family and fans off it, adidas Basketball and Dame serve up the family-inspired D Lillard 2 edition.
Performing as Dame D.O.L.L.A. at his first rap show in downtown Portland on July 15, Damian laced up the kicks in front of a sold-out crowd at the Crystal Ballroom with fans chanting along to every word. The latest D Lillard 2 is designed with a felt-like upper in fluorescent yellow but most importantly remains Oakland certified and continues to shine light on his journey to the NBA.
"The reason I wanted make and wear those shoes at my first show was all for my family. When we were kids, we used to play all types of games on these tennis courts around the corner from my grandma's house in Brookfield," Dame explained. "When all my cousins and family came out on stage with me, it was like we were back on those tennis courts again."
Originally created as a unique colorway for Dame and his family, the D Lillard 2 edition drops Aug. 30 in limited pairs for $105 exclusively at Foot Locker 34th Street in New York City.
Follow the conversation on Twitter and Instagram at @adidashoops with #DLillard2.
contacts
Madeline Breskin

adidas PR Manager - Basketball

United States

madeline.breskin@adidas.com

971-234-2220