adidas x Wanderlust FW18 Co-Branded Collection: Inspired by the beauty of mother nature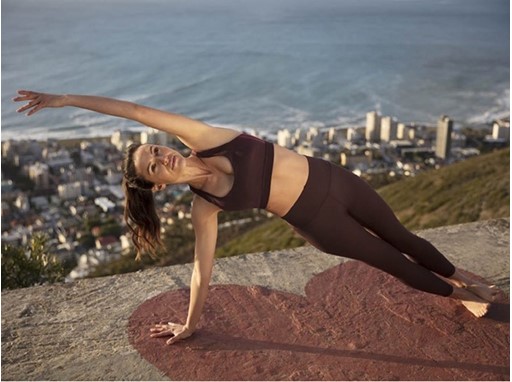 - Find new ways to move in forest green shades and sunset hues -
- Protect the planet in yoga and training apparel built from recycled materials -
Herzogenaurach, June 21, 2018: Today adidas and Wanderlust unveil the Fall/Winter 2018 Collection: inspired by the beauty of mother nature, designed for city women. Combining adidas' unparalleled performance technology with Wanderlust's expertise in mindful experiences, the collection encourages women everywhere to channel the power and strength of community.
Featuring adidas x Wanderlust ambassadors Chelsey Korus, Adriene Mishler, Clio Pajczer and Angelique Fredericks, the collection's campaign celebrates the connection between ourselves and our surroundings. Comprised of performance bras, tights and seasonal layers, the yoga, running and training pieces are perfect for
Wanderlust's 108 events
and active, urban living. Built with recycled fabrics to protect the planet, the capsule manifests itself in two, unique color palettes reminiscent of lush forest greenery and warm summer sunsets.
Alison Stewart, Senior Director adidas Women's, says:
"adidas and Wanderlust want to help women embed more sport and mindful living into their every day. That's why together with Wanderlust we have created a range of apparel with the performance, versatility and style to transition across yoga, sport and life moments, in the city and beyond."
Sean Hoess, CEO of Wanderlust comments:
"This season, Wanderlust has been inspired by the beauty and fragility of Mother Nature. We've channelled that inspiration into the pieces in this collection, both aesthetically, and by working with adidas to use as many recycled materials in the line as possible."
THE FW18 COLLECTION
Experience feminine, simple and modern athletic apparel made for movement. With an assortment of soft, brushed fabrics and warm quilts, master new moves in versatile, cozy layers. A cool and warm colorway of off-beat neutrals celebrates the natural environment, and each garment features a distinctive adidas x Wanderlust logo.
The sweat-wicking All Me Wanderlust Bra, features internal power-mesh, a beautifully playful strap design and padding for extra comfort. Constructed with recycled polyester, it combines a love of nature with organic movement. The matching Believe This High Rise Wanderlust Tight ensures zero distractions and ultimate freedom of movement thanks to a high-waist design that gives you the confidence to stand at the front of class. Take a walk and be inspired by your surroundings in the Wanderlust Long Onesie, a loose fit, drop neck and tie waistband one piece. Perfect for layering over any bra and tight, wear it on your way to and from yoga practice.
Mindfulness expert and collection ambassador Adriene Mishler, comments:
"The pieces in the adidas x Wanderlust collection allow me to be a superhero one minute and a cool and confident girl on the sidewalk the next. I love the prints and patterns because they offer a balance between the soft and beautiful side of nature combined with its boldness and power. Simple yet magnificent, like a good sunset."
The flattering Believe This Highrise 7/8 Wanderlust Tight, is designed in flexible, soft fabric that moves with you through any pose. Feel supported in downward dog, warrior pose and everything beyond in the racerback Don't Rest Wanderlust Bra. The bra features supportive technology, a ventilation mesh panel and anti-bounce straps. When it's time to relax and restore, it's easy to keep warm in the Quilted Wanderlust Cover Up, a loose fit jacket that layers over the top.
Wanderlust instructor and collection ambassador Chelsey Korus, says:
"For yoga, I love anything high-waisted. It seems minor, but functional clothing is key when doing the yoga I specialize in. You want to feel confident that your clothes will stay where they should and not add any unnecessary distraction to your movement."
The adidas x Wanderlust Collection is available now at
adidas.com
, wanderlust.com, select adidas stores and retailers including SIX:02, Macy's and Nordstrom as well as the Wanderlust Hollywood Studio and all Wanderlust events. The collection ranges from $45 for the
All Me Wanderlust Bra
to $80 for the
Wanderlust Onesie
. Tickets for Wanderlust festivals and city events across the world are available at Wanderlust.com.
contacts
Margaret Bourn

Women's PR

United States

margaret.bourn@adidas.com

+1 212-352-6129