24-AUG-2017

PORTLAND, Ore.
adidas and Concepts Create a Sneakerhead Storm with new store in Boston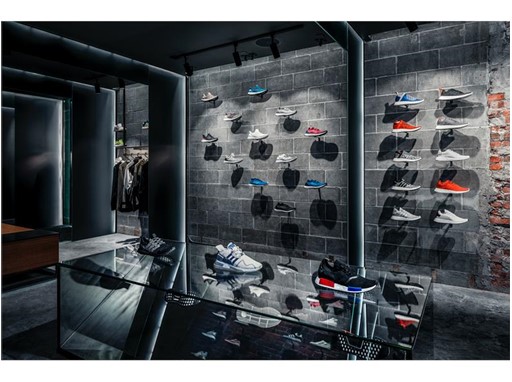 73 Newbury Street is a new and bespoke sneaker destination
PORTLAND, Ore. August 24, 2017 - adidas and celebrated Boston retailer, Concepts, are taking their long-running partnership to the next level, launching the first-ever, co-curated, adidas-exclusive boutique - adidas x Concepts. Located at 73 Newbury Street in Boston, Massachusetts, the three-stripe-only, streetwear emporium is the latest addition to Newbury Street's lineage of high-end specialty stores, eateries and galleries. Opening on August 25, 2017, adidas x Concepts launches a fresh approach to collaborative retail, introducing a long-term yet ever-evolving partnership that will defy the overused 'pop-up shop' model, now commonplace in the consumer landscape.
adidas x Concepts—a premium destination for the passionate, streetwear connoisseur—will house lifestyle and performance product for men and women, culled from the many categories and collections that span across adidas. Iconic franchises from adidas Originals such as the NMD, EQT and Samba hang alongside coveted sport models including the Ultra BOOST, the Alpha Bounce and Harden—each carefully selected and appointed by the Concepts team.
Elsewhere in the minimalist, sparsely-designed, 1200 square foot space, sneaker enthusiasts can experience innovative, pinnacle product from the brand with the three stripes, including: sought-after YEEZY styles; footwear from adidas' longstanding collaborations with designers including Raf Simons, Rick Owens, Stella McCartney and Kolor, among others. Created with unique design elements to inspire Boston's streetwear community, adidas x Concepts invites fans to make discoveries, build intimate connections with adidas styles, and gain a unique experience that unites elements of design, music, art and architecture—all filtered through Concepts' signature aesthetic.
"This partnership symbolizes yet another level of our commitment to offering a diverse and multi-faceted portfolio of unique, retail experiences for our fans," said Pascha Naderi-Nejad, Senior Director of Originals at adidas. "Our co-designed and curated boutique with Concepts is a perfect example of this, uniting two partners in the development of a new retail identity that is authentically laser focused on the consumer experience. We believe that this space will be fueled by Boston's—and the world's—enduring streetwear culture and that's exciting."
Concepts has influenced street and skate culture from its beginning in Cambridge, Massachusetts in 1996. Since its inception, it has become known as one of the greatest and most credible retail spots for collaboration projects, import fashion, sneakers, and for an overall shopping experience not commonly found in the United States.
"When we began to consider this opportunity, location and who we partnered with was critical," said Deon Point, Creative Director at Concepts. "Boston made perfect sense because it is a city that is fueled by a deep sports heritage and it's where Concepts was born. We've been wanting to do something like this with adidas for a long time because the brand resonates so authentically with the community."
adidas x Concepts Design Elements –
From the street, a descending staircase leads consumers down to the adidas x Concepts storefront. A unique, sonic experience creates a seamless but distinct transition from the outside world into the store, while, illuminated, raw metal screen doors project a custom designed, Celtic, Boston-inspired pattern that interprets the union of the adidas and Concepts logos—exclusive to this location.
Inside, shoppers are greeted by a series of increasingly narrowing sheet-glass archways—each illuminated along their edges—to create a uniform, glowing effect that draws customers further into the boutique. This funnel-like progression of glass and lighting design creates a cloister-like passage, dividing the shop-floor into different areas. The resulting alcoves create distinct spaces, each housing separate, merchandised assortments and collections from across the adidas brand, presenting footwear and apparel designs as if floating in mid-air.
As streetwear fans continue to explore the adidas x Concepts boutique, they arrive at the final back area, a celebratory space for the adidas devoted, showcasing a sneakerhead's most coveted footwear. A one-of-a-kind, interactive projection mapping display will help tell the story of the featured product, from the newest release to rare and archival adidas footwear models culled from the brand's storied past. In future months, this back room will host a rotating series of in-store experiences, including art installations; DJ performances; and events that celebrate the intersection of sport and culture.
The result is a one-stop destination for the best of adidas style and sport innovation, all presented in an elevated, gallery-like setting that offers the superior customer service, credible storytelling and street-sport-style expertise inherent to the Concepts name.
adidas x Concepts—an environment where sneakers and men's and women's fashion and sportswear are presented as art—is located at:
73 Newbury Street
Boston, MA
At the grand opening, there will be adidas limited edition footwear available.
Store Hours are:
Monday through Sunday: 10:00 a.m. – 8:00 p.m.
About adidas
adidas is a global designer and developer of athletic and lifestyle footwear, apparel and accessories with the mission to be the best sports brand in the world. As an innovation and design leader, adidas engineers the best in high-performance products to make athletes better, faster and stronger and creates a range of classic and fresh lifestyle and high-fashion lines.
About Concepts
Concepts opened its first store in 1996 in Harvard Square in Cambridge, Massachusetts. From their early beginnings in footwear, street and skate culture, Concepts has sought to develop an original and diverse point of view as original retail curators. Through retailing emergent products from opinion leading brands and collaborating with the largest names in sneakers and clothing, we've continued to push the Concepts brand globally. Surpassing 20 years in business, Concepts now has flagships in Dubai and New York City, and continues to be a leading presence among boutique retailers.
contacts
Beth Gast

adidas Public Relations

United States

-