adidas and MVP Kris Bryant Extend Partnership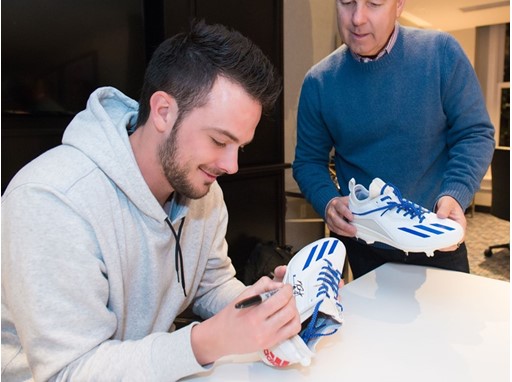 adidas today announced a multiyear partnership extension with 2016 National League MVP, third baseman Kris Bryant of the World Series Champion Chicago Cubs.
Bryant will continue to play a leading role in brand marketing campaigns and collaborations on future baseball cleats and accessories.
The two-time All-Star was recently featured in adidas' Sports Needs Creators<
https://youtu.be/ejDpAOyFnoE
> TV spot and the brand celebrated his MVP award with a Chicago takeover, surprising fans around the city with limited edition Kris Bryant "Kurse Breaker" shirts.
"It's a phenomenal time to be partnered with adidas with all the energy and momentum that the brand has right now," said Bryant. "adidas embraced me as part of the family from the start. It's been a great collaboration and we share a vision for creating the future."
An exceptionally versatile player who can play defense in both the infield and outfield, Bryant's .292 average with 39 home runs and 102 RBI's helped propel the Cubs to their first World Series Championship in over 100 years.
"Kris Bryant is an incredible player," said Mark King, adidas Group North America president. "What I love about him is just how humble and appreciative he is to be playing the game of baseball. In so many ways, he's just a regular kid who loves talking about little league games and hitting homeruns off his dad. There are a lot of people with talent out there, but they don't hit 26 homeruns as a rookie, become MVP and lead their team to a World Series win after a more than 100-year drought. Kris is creating history right before our eyes and what sets him apart is his love of the game and mindset. Yes, there's pressure he feels, but for him it's fun and enjoyable and he believes he can accomplish great things. His expectation is far greater than anything anyone else can put on him and he's only at the beginning of his career. We're so proud to call Kris part of our family. He is the future of baseball."
Bryant embodies the definition of being a creator in sports. In just four consecutive years, Bryant became the first player in history to win College Player of the Year, Minor League Player of the Year, Rookie of the Year and National League MVP in successive seasons.
"At 23, Kris Bryant is an MVP and World Champion," said Scott Boras, Bryant's agent. "It was a privilege to work with adidas to create a historic agreement between two partners in excellence."
contacts
Paul Murphy

Football, Baseball, Hockey PR

United States

971-234-4266