adidas Celebrates 2018 Stanley Cup® Champions with Limited Edition SPEEDFACTORY AM4NHL Running Shoes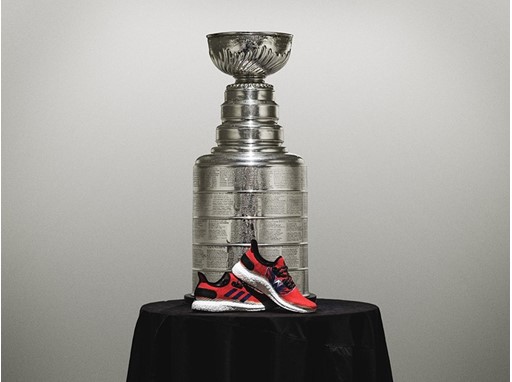 adidas SPEEDFACTORY's Advanced Technology Creates Custom Shoes in Just 14 Days
adidas today unveiled the limited edition, high-performance adidas Made For NHL (AM4NHL) running shoes assembled at SPEEDFACTORY USA.
To celebrate the Washington Capitals® Stanley Cup® Championship, each member of the team will receive a pair of the revolutionary, limited edition AM4NHL running shoes.
adidas pushed the boundaries of innovation by introducing the lighter, cooler, stronger adizero Authentic NHL jerseys to kick off the 2017-18 NHL® season. Now, to cap off the season, the brand continues to showcase creativity and innovation with the introduction of limited edition SPEEDFACTORY AM4NHL running shoes.
Inspired by Washington's team colors, the AM4NHL features the Capitals' logo on the medial side and adidas' iconic 3-Stripes on the lateral side of the upper. Additionally, the team logo and NHL® logo are emblazoned onto the heel patch.
The AM4NHL takes the running shoe silhouette to the next level by optimizing fit, comfort, movement and a radically accelerated digital production process. SPEEDFACTORY creates the opportunity to be hyper-reactive in going from design to shelf. Created with just a 14-day lead time, 38x faster than industry standard production times of 18-month lead time, the AM4NHL features:
Precise Fit – programmed upper: digital placement of fit patches provides specialized fit for sport-specific movements.
Floating Torsion Bar – for effortless movement: adidas' iconic Torsion system redesigned and digitally embedded to "float" inside the sole without stiffness of adhesives. Precisely balancing flexibility with stability for best heel to toe transition.
Fused Bonding Construction – for direct comfort: Precise digital bonding of sole to upper eliminates glue, giving you the most direct experience of BOOST comfort.
BOOST – for energy return: BOOST is our most responsive cushioning ever: The more energy you give, the more you get.
Through localized and digital production, the AM4NHL is brought to life at SPEEDFACTORY USA. Using SPEEDFACTORY's unique process of fit programming, tension patches are digitally mapped onto the upper to deliver a precise, dynamic fit that is specifically tuned for elite performance.
The AM4NHL is the newest shoe in the AM4 series, following the launch of the Los Angeles (AM4LA), New York (AM4NYC), Los Angeles 747 (AM4LA 747), Paris (AM4PAR) and London (AM4LDN) running shoes adidas SPEEDFACTORY. Additional launches in Tokyo (AM4TKY) and Shanghai (AM4SHA) will be coming soon in 2018.
contacts
Paul Murphy

Football, Baseball, Hockey PR

United States

971-234-4266