adidas Expands Revolutionary Sneaker Reservation App To New Cities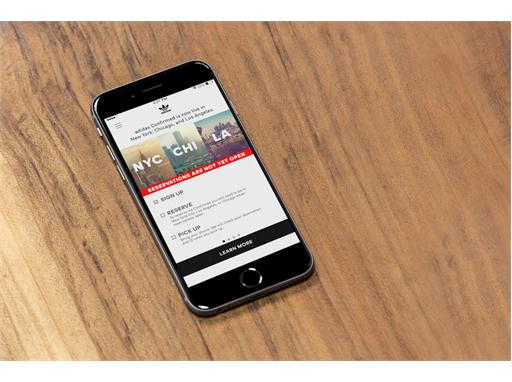 PORTLAND, Ore. (June 15, 2015)
This past winter during New York Fashion Week, adidas launched the adidas Confirmed app, an innovative, first-of-its-kind sneaker reservation mobile application that transformed the way the industry launches shoes. After successfully debuting in New York City around the Kanye West Yeezy BOOST launch, starting today via the Apple app store and Google Play, the updated app is available for customers to safely reserve the brand's most highly anticipated sneakers in Los Angeles and Chicago for the first time.
The adidas Confirmed mobile app allows consumers to sign-up, reserve, and pick-up their sneakers all by using their smart phones. In just a few months, adidas Confirmed expands on this idea by introducing the capability to two additional key markets in the United States, increasing accessibility and reaching even more customers than ever before.
"Launching a sneaker like the Yeezy Boost through the Confirmed app was the ideal way to debut our new technology to the sneaker world." Kelly Olmstead, Sr. Director of Brand Communication for adidas America, said. "It was a highly anticipated launch with potential to prompt long lines, unfair practices and perhaps unsafe conditions for our customers—which is never our desire. With the adidas Confirmed app, we were able to put our consumers first by minimizing these types of frustrations and elevate their buying experience. Expanding the app to Chicago and Los Angeles is part of a larger plan to ensure that customers across the US have equal access to hype product."
The next launch through adidas Confirmed will be set to a staggered schedule, unlocking reservation capabilities from East to West. In the future, additional cities will be added to the app-- keeping push notifications enabled will allow customers to be first to know which cities will be next.
How it works:
SIGN UP
• Download and install the app, registering with name, email, and zip code.
• Enable push notifications and location services on device.
RESERVE
• Receive push notification that will communicate when reservations are available in designated geographical zones.
• Reserve a pair of shoes by selecting size and confirming selection.
PICK UP
• Find out where and when to pick shoes up for purchase.
• Arrive at designated retail location during their designated window of time.
• Present app's reservation confirmation to a store associate and complete purchase.

Available at adidas own retail stores in these key cities, reservations can be made through the app available for download now from Apple app store or Google play. Push notifications will inform users when reservations are coming for sneaker releases.

For more information visit http://news.adidas.com/us
contacts
Michael Ehrlich

Director of Public Relations

United States

michael.ehrlich@adidas.com

971 234 2214