adidas Football Offers the Pro Prospect Who Breaks the 40-Yard Dash Record Their Own Island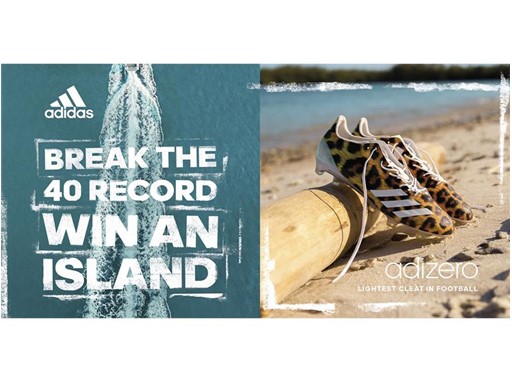 adidas Football today announced that the brand is offering the opportunity to win an island to the pro prospect in Indianapolis who breaks professional football's recognized 40-yard dash record. The offer is open to any pro prospect who runs professional football's recognized 40-yard dash in Indianapolis in the 2017 adizero 5-Star 40 cleats later this month and satisfies the eligibility requirements. Full details of the offer and requirements to be eligible are available at
www.adidas.com/us/football
​​
More than 300 athletes will take the field and attempt to break the current record of 4.24 seconds held by Chris Johnson, which has stood for nine years. Each year adidas Football has upped the ante for the fastest 40-yard dash time in adidas Football cleats. The first offer was an endorsement deal with the brand in 2013, followed by $100,000 to the single fastest time in 2014, $100,000 to the top three fastest times in 2015, $1 million dollars to the athlete who could break the record in 2016, and now the opportunity to win an island for any athlete who breaks the 40-yard dash record later this month.
Aerodynamic and weighing in at only 4.8 ounces, the adizero 5-Star 40 cleats are the undisputed lightest cleat in the game. Inspired by the fastest animal on the planet and crafted for the fastest players on turf, the adizero 5-Star 40 cleats feature a high-definition, digitally printed Cheetah-like pattern designed for athletes who want to showcase their style while attempting to break land speed records.
Specifically created for the 40-yard dash, the adizero 5-Star 40 cleats are constructed from an ultra-lightweight, yet extremely strong fiber. The SPRINTSKIN Ultra upper is engineered to provide reinforcement only in key support zones for elite performance, while sitting atop a SPRINTFRAME football plate with strategically placed SPRINTSTUDS designed to provide peak performance and acceleration for the 40-yard dash.
contacts
Paul Murphy

Football, Baseball, Hockey PR

United States

971-234-4266