adidas Gives Fans Exclusive Access to 2014 FIFA World Cup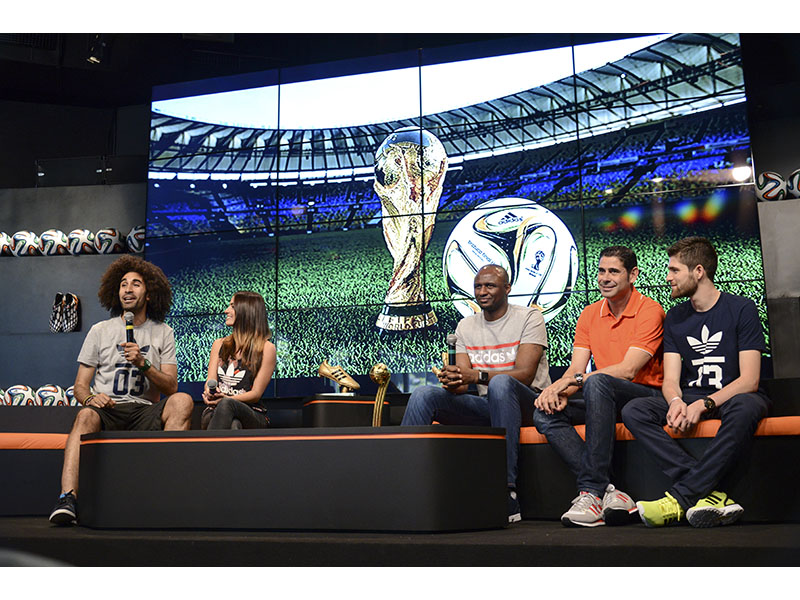 As the official partner of the 2014 FIFA World Cup, adidas will bring fans never-before-seen access to the tournament and an inside look at their favorite players and federations as they battle it out on the world's biggest stage.

"Whether you're watching the World Cup on your phone, from your living room or in your favorite bar, adidas is giving fans exclusive access to the action in Brazil that they can't get anywhere else," said Ernesto Bruce, director of soccer for adidas. "Soccer is deeply embedded in our DNA, with more than half a century driving innovation at the World Cup, so it's important that we bring fans around the world as close as possible to the excitement of this history-defining event."

Kicking off the tournament today, adidas unveils an extended version of the brand's World Cup commercial staring Lionel Messi of Argentina. Directed by "City of God" director Fernando Meirelles and featuring an exclusive Kanye West track, the TV spot can be viewed here: http://youtu.be/Eu1BFo0ZqUY

adidas Launches Messi App, Connecting Fans with the World's Best Player
adidas today launches "Vamos Leo," a comprehensive, real-time app for all things Leo Messi throughout the tournament. Connect fans around the world with the planet's best player, "Vamos Leo" includes countdowns to Messi's matches with Argentina, a live feed of his social media buzz and real-time images of the star in action. Fans can add copy and filters to the images and share them on their own social channels.

"I hope it's the summer that Argentina become champions. I know how much it would mean to every person back home. I'm going to Brazil because I want to be a champion and win the World Cup for my teammates, my family, my people. I will give 100 percent – I always do," said Messi.

The app will also give fans a chance to win exclusive prizes, including tickets to the 2014 FIFA World Cup Final. "Vamos Leo" is available now for download on Google Play and the iTunes App Store.

adidas Premieres "The Dugout," Live World Cup Show
Continuing to give fans unprecedented access to the 2014 FIFA World Cup, adidas today premiered "The Dugout," its first-ever live World Cup show. Hosted by KickTV's Hugh Wizzy and Layla Anna-Lee, today's show featured World Cup winner Patrick Vieria of France and Spanish national team legend Fernando Hierro. You can watch today's episode on adidas' YouTube channel.

Streamed live from adidas Posto in Rio, "The Dugout" features live interviews, adidas product reviews, behind-the-scenes action, and chances to win prizes and products. Tune in to upcoming shows at 7am PT on June 13 with Brazilian legend Cafu and additional episodes on June 27, June 28, July 3 and July 12.

For more World Cup content and to join the conversation please visit @adidassoccer #WorldCup #allin or nothing or Facebook.com/adidasSoccer.

Thanks for considering and enjoy the first World Cup match today!
contacts
Michael Ehrlich

Director of Public Relations

United States

michael.ehrlich@adidas.com

971 234 2214