adidas Originals | The 'Future Capsule' Takes Over NYC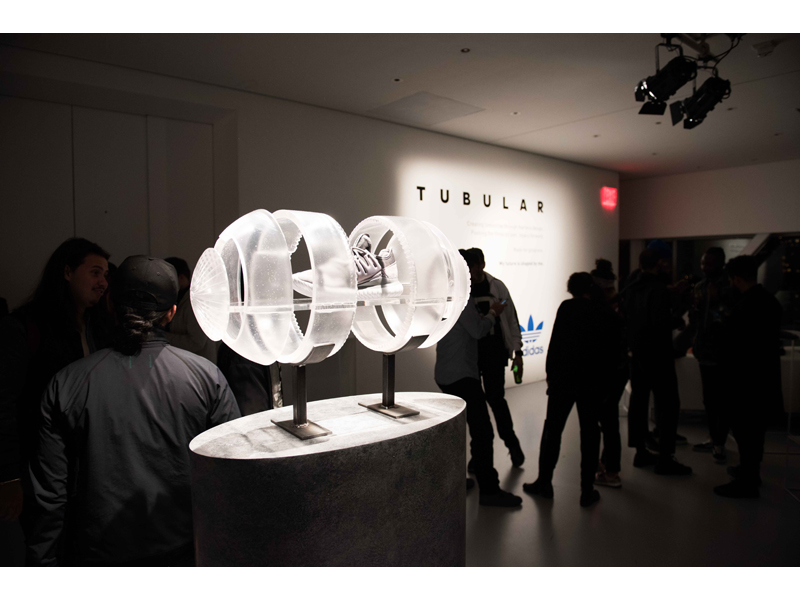 ADIDAS ORIGINALS INVITES GUESTS TO EXPERIENCE THE FUTURE THROUGH THE 'FUTURE CAPSULE'
10 Young Rising Artists Take On the Challenge to Create a Better FUTURE Through Art
(NEW YORK) - Last night, adidas Originals partnered with 10 artists from New York City and Los Angeles to unveil a collective body of work titled 'Future Capsule' at the New Museum in New York City. The 10 artists assisted in building the Future Capsule concept by offering their personal interpretation of what a better future could look like for the world through their artistic lens. The Future Capsule art installation played host to media, consumers and local tastemakers – an event that conceptually displayed different art forms including photography, painting, digital art and soundscapes. The artists for the Future Capsule included: Mars, Eric Hu, Yung Jake, Mischa Khan, Arvida Bystrom, Phillip Annand, Caleb Hanne, Nick Thomm, Lucia Santina Ribisi and Emmanuel Olunkwa.
The Future Capsule art installation spanned three levels at the New Museum, starting with an informal exhibition on the main floor filled with an eclectic collection of art comprised of mixed media and installed per the artists' vision. The Future Capsule came to life on the lower-level of the museum in an interactive, immersive video experience with large projections of art animating across the entire room. Visitors of the Future Capsule were asked to contribute to the concept by completing the statement, "My Future is ___" , which was then added into the Future Capsule video experience and streamed across the lower-level. At the very top of the New Museum, guests viewed out the floor-to-ceiling windows in the Sky Room, while being entertained by a curated soundscape from Erik the Architect of the Flatbush Zombies.
The Future Capsule art installation is an extension of the recently launched Future campaign from adidas Originals – a year-long initiative focused on introducing new franchises and design updates to iconic silhouettes. The Future Capsule represents our brands unwillingness to settle for the norm, as we collaborate with these 10 artists and challenge them to reveal a collective body of work with DNA tied back to inspiring a generation of thinkers to disrupt the status-quo and shape their own destinies. The Future Capsule will continue on to its next stop in Los Angeles on Thursday, March 10 at the Seventh Letter. The Los Angeles version of the Future Capsule will run from March 10th-13th.
Should you choose to share the LA invite with your readers please click HERE.
contacts
RaEsa Benjamin Wardle

Sports Style PR

United States

RaEsa.Benjamin-Wardle@adidas.com

212 352 6134

503 348 7367