31-AUG-2016

Portland, Ore
adidas Originals Announces the Expansion of Sound Labs in Three Major Cities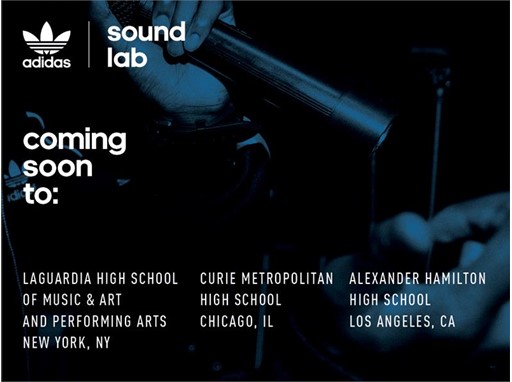 Portland, Ore. (August 30, 2016) – Today, adidas Originals announces the expansion of the 'Sound Labs' program in New York City, Chicago and Los Angeles - a program created to foster collaboration, innovation and support for public school music programs lacking financial support. In support of the expansion of 'Sound Labs', hip-hop artist Pusha T has signed off to serve as a celebrity mentor offering periodic visits and production assistance to students enrolled in the yearlong program. Launching at Cass Technical High School in Detroit, additional 'Sound Labs' are being created in New York, Chicago and Los Angeles starting in late-September.
Established in 2015, the 'Studio of Infinite Possibilities: Sound Labs' began in Detroit as a program in which students exercised the process of making music and received guidance from industry tastemakers culminating into an educational experience that promotes the concept of creativity. The adidas Originals 'Sound Labs' are equipped with full audio recording and mixing equipment, creating a space for students to maximize their potential while at Cass Technical High School. Through maintenance of a 2.5 GPA, all participating students are allowed to apply for the program, which accepts 50 students per academic calendar year operating after school. Alongside their day-to-day curriculum which carries advanced education in business management, engineering and science, students will utilize the program to heighten their understanding of the arts, teamwork and production tooling.
As the program grows into its three new locations, rapper Pusha T will serve as a mentor, guiding the students on elevating their craft and understanding the rigors of the music industry. With insights gained through an illustrious career, Pusha T's influence will serve as reference point for the students, showcasing the value of self-expression and truly unlocking creativity.
About adidas Originals:
adidas Originals is the iconic sportswear brand for the street, born in sport heritage but living in contemporary lifestyles. Symbolized by the Trefoil, adidas Originals is bringing heritage styles of the adidas history back to life. Its biggest strength is the ability to be a relevant part of people's lives - in whatever lifestyle they have.
contacts
Andrés Paz Micheo

Sr. PR Manager adidas Originals

United States

-