adidas Originals Celebrates the Iconic Superstar with an Exhibition in New York City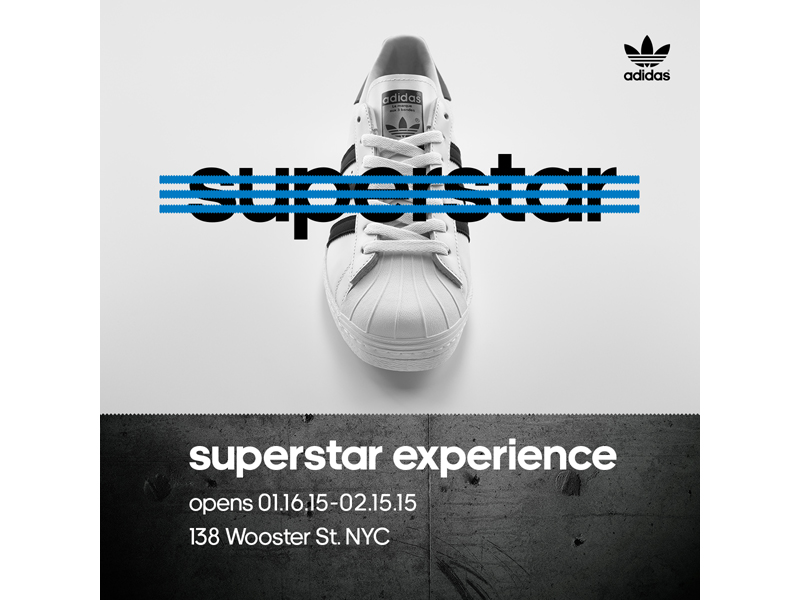 To kick-off the global campaign re-launching the Superstar, adidas Originals celebrates the iconic silhouette by opening The Superstar exhibition in New York City.
Superstar Experience-
Inspired by past and present, the exhibition chronicles the history of the Superstar drawing from its roots in New York City basketball culture and the underground street style it flourished in. Visitors will be taken through a journey to the present and have the opportunity to glimpse into future executions and interpretations of the iconic model; first looks at the redesigned Superstar for 2015, the adidas Originals NYC Rivalry Superstar collection, and the Pharrell Williams Supercolor collection.
Through elevated events and activations visitors will be empowered to re-think the meaning of the ambiguous Superstar and understand its iconic status in sneaker culture. Over the next month, the space will serve as a stage, a gallery, a classroom and an incubator for creativity and self-expression.
The adidas Originals Superstar experience is located at 138 Wooster Street, New York, NY. Open weekends, Friday January 16th through Sunday February 15th.
#OriginalSuperstar
www.adidas.com/originalsuperstar
Campaign background:
To re-launch the iconic Superstar shoe, adidas Originals kicks off the New Year with a global campaign questioning what it means to be a Superstar in 2015.
Social media has completely redefined the concepts of self-expression, originality and creativity and, throughout 2015, the campaign will question the need for external validation and celebrity worship.
The campaign launches with a 90 second film, directed by Karum Huu Do and featuring David Beckham, Pharrell Williams, Rita Ora and Damian Lillard, each revealing that Superstar is not what you think it is. For Pharrell, the meaning is clear; "It's not about the number of views, likes or shares". While Rita Ora says, "It's not about walking down red carpets, talking to reporters and waving at fans."
The film will be accompanied by six shorter edits, including a 30 second version to launch Pharrell's forthcoming Supercolor collection. Takeovers in Times Square and Madison Square Garden, and below-the-line activations across PR, social, digital, retail and experiential will support both the campaign and product drops, including further collaborations with Pharrell and Rita Ora.
The global campaign was created by New York-based creative agency Johannes Leonardo, with below-the-line communications strategy from London based Three Sixty Communications.
The iconic Superstar shoe was first released in 1969 and quickly transitioned from the courts to the streets. The silhouette has been a mainstay of street culture ever since, representing creativity and diversity across the world. For adidas Originals, 2015 marks the next chapter of the Superstar legacy with product drops and artist collaborations throughout the year.
contacts
Mans Ericson

Senior PR Manager – Sport Style

United States

212 352 6133

347 852 3911