adidas & Pac-12 Announce Partnership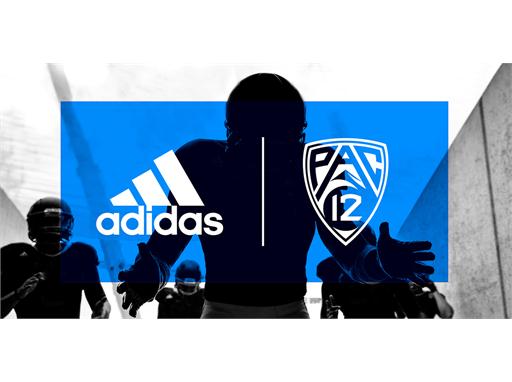 The Pac-12 Conference and adidas announced today a three-year partnership that makes adidas the Official Athletic Apparel and Athletic Footwear partner of the Conference and all Pac-12 Championship events.
In addition, the new agreement makes adidas the presenting sponsor of Pac-12 Sports Report, Pac-12 Networks' weekly one-hour flagship studio show. Pac-12 Sports Report showcases each week's big events with commentary, recaps, interviews and feature stories that elevate the profile of the Conference's outstanding teams, student-athletes and coaches. adidas will also be integrated into some of Pac-12 Networks live event programming with on air talent and production staff wearing adidas apparel. Pac-12 staff and volunteers will also be outfitted in adidas apparel at Conference championship events.
"We are thrilled to reach a strategic partnership with such an iconic company that shares our passion for innovation," said Pac-12 Commissioner Larry Scott. "As they do with athletes around the world, adidas will now help support Pac-12 student-athletes by improving their championship events and bolstering our coverage of their success on Pac-12 Networks."
The Pac-12 hosts championship events in football, men's basketball, women's basketball, men's and women's cross country, men's and women's swimming and diving, wrestling, women's gymnastics, men's and women's golf, men's and women's tennis, men's and women's track and field, women's rowing, and women's beach volleyball.
"It is an exciting day for adidas as the Pac-12 is one of the elite conferences in all of collegiate athletics," said Chris McGuire, Senior Director of Sports Marketing, adidas America. "This new partnership continues to highlight our commitment to U.S. college sports and our focus on aligning with championship-level schools, teams and student-athletes. The Pac-12's rich athletic and academic tradition and consistent success on and off the field make them a perfect fit for the adidas family. We look forward to our brand appearing on field and court, in stadium, across the Pac-12's digital properties and on-air during Pac-12 Network broadcasts starting this season."
About the Pac-12 Conference
The Conference has a tradition as the "Conference of Champions," leading the nation in NCAA Championships in 50 of the last 55 years, with 478 NCAA team titles overall. The Conference comprises 12 leading U.S. universities: The University of Arizona, Arizona State University, the University of California-Berkeley, the University of California at Los Angeles (UCLA), the University of Colorado, the University of Oregon, Oregon State University, Stanford University, the University of Southern California, the University of Utah, the University of Washington and Washington State University. For more information on the Conference's programs, member institutions, and Commissioner Larry Scott, go to
www.pac-12.com/conference
.
About Pac-12 Networks
Pac-12 Networks is the innovative TV and multimedia company of the Pac-12 Conference, and is the first such company to be wholly owned by 12 universities. Pac-12 Networks incorporates one national and six regional television networks, plus extensive digital content accessible through social media, university websites, and Pac-12 Now, its TV Everywhere service. Each year, Pac-12 Networks offers live coverage of 850 sporting events, making it one of the top live sports producers in the country. In addition, Pac-12 Networks creates extensive original programming, provides visibility for marquee football and basketball events as well as traditionally under-served women's and Olympic sports. Pac-12 Networks also provides training and paid internships for thousands of students of the Pac-12's member universities, preparing them for careers in media. With headquarters in San Francisco's SOMA District, Pac-12 Networks draws on the creative, entrepreneurial, and technological culture of the Bay Area and nearby Silicon Valley. For more information, go to
http://pac-12.com/networks
.
About the adidas Group
adidas is a global designer, developer and marketer of athletic footwear, apparel and accessories with the mission to make all athletes better. adidas is the official uniform, footwear and apparel provider for more than 100 collegiate programs including Arizona State, Indiana, Kansas, Louisville, Miami, Michigan, Mississippi State, Nebraska, North Carolina State, Texas A&M, UCLA and Wisconsin. adidas has marketing agreements with the National Football League, Major League Baseball, the National Basketball Association and Major League Soccer.
contacts
Michael Ehrlich

Director of Public Relations

United States

michael.ehrlich@adidas.com

971 234 2214