adidas Soccer and New York City FC Kick Off Fashion Week, Bring Soccer from the Stadium to the Street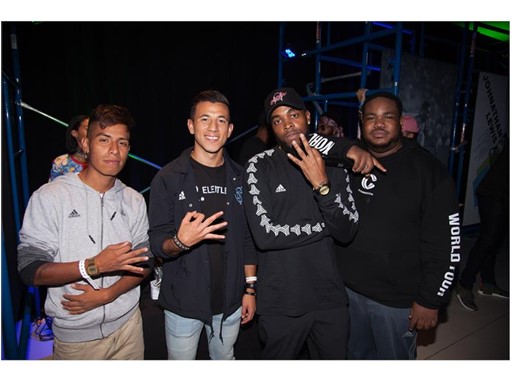 - Guests in attendance included NYCFC players Mikey Lopez and Jonathan Lewis -
- Held at #NYCFCHouse, in Manhattan's Meatpacking District, the event featured a live performance by DJ Sliink -
- Taking inspiration from the streets of NY and soccer, the venue celebrated the intersection of sport and culture -
NEW YORK, September 7, 2017 – On the back of a 1-0 win versus Sporting KC on Wednesday night, adidas Soccer and New York City Football Club kicked off New York's Fashion Week by taking the sport of soccer from the stadium to the street at the club's first-ever Pop-Up shop and experiential space in the heart of Manhattan's Meatpacking District.
Guests in attendance, which included NYCFC players Mikey Lopez and Jonathan Lewis, local influencers and soccer fans from the Tri-State area, were treated to a live performance by NYC-based hybrid dance music artist DJ Sliink. In addition, they were able to collaborate with local artists to create personalized memorabilia.
Located at 446 West 14th Street, the four story location took inspiration from the energy of the city and its obstacles to design a space that intersects sport and culture. As guests entered the store, they were greeted with high energy videos underscoring New York's relationship with street soccer, an experience that translated throughout the venue.
Surrounded by adidas Soccer's latest stadium to street NEMEZIZ collection, guests had the chance to experience the connection between the city and the sport by interacting with the street players and influencers featured in the videos and in the instore gallery of local NYC soccer stories.
Open through Sep. 21, the #NYCFCHouse will continue to feature a series of soccer-related events, viewing parties, access to exclusive product releases, and a full assortment of team merchandise available for purchase.
contacts
Cristina Maillo Belda

Soccer PR

United States

cristina.maillobelda@externals.adidas.com

971 234 5398

503 915 9129