adidas Soccer Launches New Colorway for NEMEZIZ, the cleat for the agile creator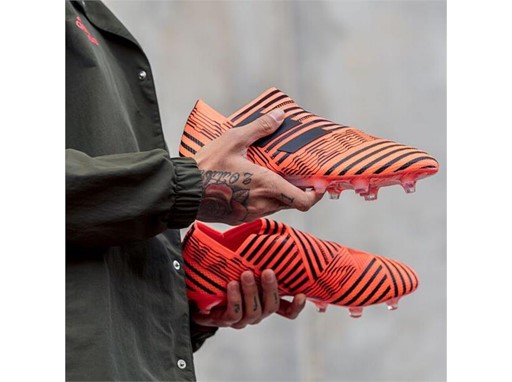 - Pyro Storm NEMEZIZ 17+ 360 AGILITY comes in striking orange and black colorway -
- NEMEZIZ 17+ 360 AGILITY designed for the game's most agile players -
- Available in Stadium, Cage and Street versions for players looking to dominate any setting -
- World's greatest player, Leo Messi, to wear his own signature colorway -
Portland, Ore., September 29, 2017 – adidas Soccer released today a bold new orange and black design for NEMEZIZ 17+ 360 AGILITY – the brand's latest cleat innovation. Built to enhance the performance of the game's most agile players, NEMEZIZ 17+ 360 AGILITY is inspired by the idea of 'taping', a process used commonly in sport to deliver security, support and adaptability.
The new Pyro Storm cleat includes an AGILITYBANDAGE with TORSIONTAPES technology, designed to deliver the perfect fit by ensuring the foot remains locked in place. A dual-lock collar secures the ankle in place and allows for explosive change of direction.
The TORSIONFRAME outsole features an ultra-lightweight construction and TORSIONRIBS to provide dynamic push off support, which is vital for agile movement. The new AGILITYKNIT 2.0 interlocking yarn structure provides a soft direct touch and a lightweight, adaptable feel.
To ensure players can experience the same level of agility in any setting, Pyro Storm NEMEZIZ 17+ 360 AGILITY is also available in both Cage and Street versions. Featuring the same orange and black colors as the on-field cleat, both the cage and street shoes feature the same TORSIONTAPES and AGILITYKNIT 2.0, giving the most agile players the same tools to support their agility in the cage and on the street.
The latest pack also includes a specially designed colorway, a white shoe with bright orange adidas three stripes, for the best player in the world, Leo Messi.
The Pyro Storm NEMEZIZ 17+ 360 AGILITY is available from today at
adidas.com
and adidas retail stores.
contacts
Cristina Maillo Belda

Soccer PR

United States

cristina.maillobelda@externals.adidas.com

971 234 5398

503 915 9129