Adidas Soccer x Gosha Rubchinskiy: Soccer Meets Fashion Through Latest Collaboration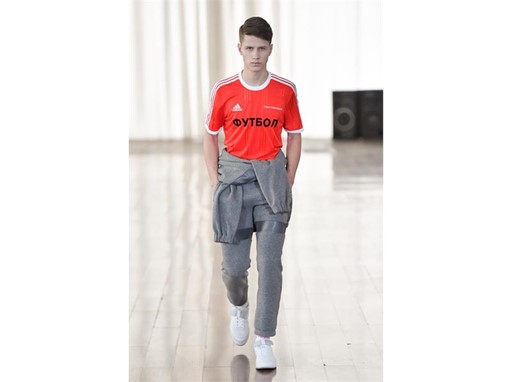 FW17 collection fuses high-end fashion with soccer culture
Collaboration between adidas and Gosha inspired by the youth of Russia
Collection presented at an exclusive fashion show at the Old Stock Exchange in Kaliningrad
Latest launch part of an ongoing partnership leading up the 2018 FIFA World Cup in Russia
Portland, Ore., January 12, 2017 – adidas Soccer meets high-end fashion for the first time with the launch of its latest collaboration: adidas Soccer x Gosha Rubchinskiy. Known for his unique view on the world of fashion, Gosha Rubchinskiy has combined forces with adidas Soccer to create a bespoke range of garments inspired by the Russian youth culture of today.

Designed in Gosha's signature style, the FW17 collection mixes iconic pieces – such as track suits, scarves and sneakers - with classic suit items from the main collection. The range is compiled of off-pitch footwear, clothing and accessories, with Gosha applying his stamp to each item.
Hero pieces include the adidas Soccer x Gosha Rubchinskiy winter coat; a padded coat available in red or black with grey reflective stripes, a woven piste jersey; a striped jersey available in grey, black and white; and a short-sleeve, striped football jersey. Other items include adidas Soccer x Gosha Rubchinskiy hoodies in black, white, red and grey and various accessories including hats and bags. Each piece features the collection's signature mark, the word "FOOTBALL" written in Cyrillic to pay homage to fans of the game.
The adidas Soccer x Gosha Rubchinskiy footwear includes the ACE 16+ SUPER, featuring a Primeknit upper from adidas Soccer and is available in red, white and black colorways. Each features an all-new grey toecap and the words adidas | Gosha on the sole.
The collection was presented to the public at an exclusive event at the Old Stock Exchange in Kaliningrad, Russia – a carefully selected location synonymous with the youth culture of Russia today. Now reconverted into the epicenter of the youth of Kaliningrad, a city with some of the oldest soccer stadiums in Russia and a host stadium for the 2018 World Cup, Gosha saw this as the perfect location to pay homage to adidas – a brand with football at its very heart.
Gosha said:
"The next two years signal some of the biggest years in sport for my home country, Russia, as we prepare for our first ever FIFA World Cup in 2018. By teaming up with adidas Soccer it's enabled me to celebrate the youth of Russia in the eyes of the world by creating garments which combine my vision of fashion with the best sportswear brand on the market."
Sam Handy, Vice President of Design, adidas Football said:
"Gosha is someone who adidas Soccer has wanted to work with for some time now due to his passion for soccer and youth culture. Sharing similar beliefs as adidas - the flair for creative spirit and innovation – made him the perfect designer to work with as we gear up to the 2018 FIFA World Cup. Gosha is someone who really understands soccer and this is evident in the adidas Soccer x Gosha collection where the designs are authentic and inspiring. We're excited to see the partnership flourish through 2017 and 2018."
For further information please visit adidas.com/us/soccer or go to facebook.com/adidassoccer or follow @adidassoccer on twitter to join the conversation.

contacts
Cristina Maillo Belda

Soccer PR

United States

cristina.maillobelda@externals.adidas.com

971 234 5398

503 915 9129