adidas Unveils 2017 U.S. Army All-American Bowl Uniforms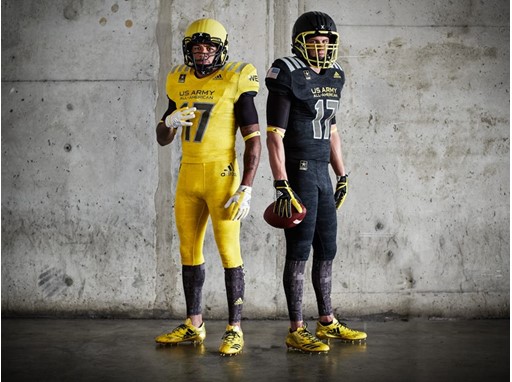 adidas today unveiled the 2017 U.S. Army All-American Bowl Primeknit uniforms, which will be worn by the nation's top high school football players on Saturday, January 7th, at 1pm EST on NBC.
Influenced by U.S. Army uniforms and field gear, the 2017 uniforms are centered around a 'Badge of Honor' camouflage jacquard pattern that was inspired by military ribbons and infused into the jersey and pants. The color palette features the traditional black and gold U.S. Army colors, black representing knowledge and gold signifying achievement and honor, in order to create a signature look for the 2017 U.S. Army All-American Bowl. The West team will wear gold and the East team will be in black.
adidas Football developed new materials and application techniques exclusively for this uniform to highlight the look and feel of U.S. Army uniforms and field gear. Unique design elements include a KEVLAR® weave incorporated into the player numbers, traditional military uniform nametape on the right side of the chest and the U.S. Flag patch on the right arm. Additionally, the numbers and shoulder stripes are highlighted by reflective materials and serve as homage to the infrared reflective strips utilized on the Army's PT (physical training) uniforms.
The 2017 Primeknit uniform is at the forefront of design and innovation, providing players the perfect blend of style and technology for elite performance. Made with a cutting-edge, proprietary yarn blend that increases durability and abrasion resistance, Primeknit is the premier compression uniform system, featuring the latest generation of adidas TECHFIT technology. Primeknit helps keep players cool and increases range of motion, giving athletes an unrivaled level of comfort and allowing them to perform at their highest levels. The jersey's padlock system secures tension over the shoulder pads, while the bodymap fit adheres to the player, making it difficult for opponents to grab, hold or tackle.
As a tribute to U.S. Army helicopter pilots, each matte black and matte yellow helmet has been customized with individual player names on the back of the helmet. Further infusing the theme, the 2017 Army All-American Bowl uniforms include a TECHFIT baselayer, tights, arm sleeves and adizero 5-Star 5.0 gloves that feature the 'Badge of Honor' camouflage jacquard pattern.
To complete the head-to-toe package, both squads will don special edition "Dipped" monochromatic cleats infused with a reflective digi-camo pattern that mirrors the 'Badge of Honor' pattern in the jerseys and pants. Engineered for the game's fastest and most intimidating athletes, the "Dipped" adizero 5-Star 6.0 and FREAK x KEVLAR® are fabricated from a lightweight, flexible a SPRINTSKIN and features KEVLAR® woven into the upper for added durability.
For more information and images of the new 2017 Army All-American Bowl Primeknit uniforms and the adizero 5-Star 6.0 cleats, please visit
http://news.adidas.com/US
and follow the conversation on Twitter and Instagram via
@ArmyAllAmerican
​,
@adidasfballUS
,
https://www.facebook.com/adidasfootballus
and
https://www.facebook.com/USArmyAllAmericanBowl
,
#teamadidas
,
#ArmyBowl
​​
contacts
Paul Murphy

Football, Baseball, Hockey PR

United States

971-234-4266