adidas Unveils Commemorative Armed Forces Classic Uniforms for Indiana and Kansas Basketball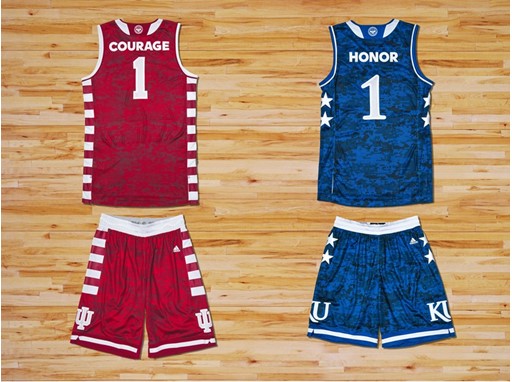 adidas today unveiled basketball uniforms for the University of Kansas and Indiana University to wear during the fifth annual Armed Forces Classic near Pearl Harbor November 11, honoring America's bravest on Veterans Day. The uniforms pay homage to the stars and stripes of the American flag while upholding the aesthetics of two of college basketball's most-iconic programs.

To commemorate the upcoming 75th anniversary of the attack on Pearl Harbor, the back of both jerseys display an emblem featuring "REMEMBER PEARL HARBOR" alongside two anchors, an eagle and a star, which take inspiration from Navy medals and accolades.
The Armed Forces Classic uniforms display a digital camouflage pattern inspired by military fatigues. Bold contrasting is present along the jersey collar and waistband, using white terrycloth material for sweat management and optimal performance during the game's critical moments.
The Jayhawks will don an all-blue uniform featuring white stars mirroring the American flag along the side. The iconic elements of the five-time national championship winning program are highlighted with customary white name, numbering and KU logo. The names of each player will be replaced on the backs of the game jerseys with the word "Honor" to commemorate those who fought in the Battle of Pearl Harbor.
Red and white stripes set the tone for the Hoosiers' uniform, flanking the side of the jersey and short from shoulder to knee. Influenced by both the American flag and the candy striped warm-up pants immortalized into Hoosiers tradition by the 1971-1972 squad, the uniform blends American pride with Hoosier history. The word "Courage" will replace the names of each Hoosiers player while the traditional Indiana numbering will emblazon the jerseys with the Hoosier insignia embroidered in white mesh on the short.
To give players optimum performance on the court, both uniforms utilize the same lightweight, moisture-wicking technology used in the NBA. Targeted ventilation zones throughout the uniform keep players cool even in the most intense moments of the game. A mid-hole mesh execution on the short promotes comfort and breathability
contacts
Madeline Breskin

adidas PR Manager - Basketball

United States

madeline.breskin@adidas.com

971-234-2220