adidas Unveils New Uniforms for 2016 U.S. Army All-American Bowl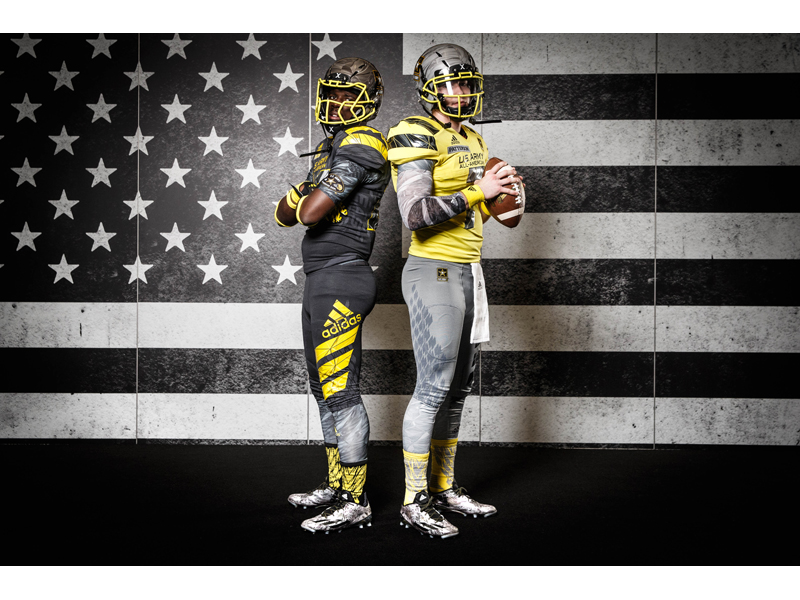 adidas Unveils New Uniforms for 2016 U.S. Army All-American Bowl adidas today unveiled the 2016 U.S. Army All-American Bowl Primeknit uniforms, which will be worn by the nations top high school football players on Saturday, January 9th, at 1pm EST on NBC.
Taking cues from the battlefield and applying them to the playing field, the uniform is centered around symbolic battle stripes, which are prominently displayed on the jersey and pants, creating a signature look for the 2016 U.S. Army All-American Bowl. The design pays tribute to those who have served our country and was inspired by the stripes painted onto U.S. Army vehicles during WWII and the striped archway used as the crown of the National D-Day Memorial.

The nod to the U.S. Army continues by featuring the traditional black and gold U.S. Army colors throughout the uniform, black representing knowledge and gold signifying achievement and honor. Additionally, adidas designers added military inspired detailing throughout the signature look, including the traditional military uniform nametape on the right side of the chest and the U.S. Flag on the right arm of the TECHFIT baselayer. The West team will wear gold and the East team will be in black. Additionally, each helmet has been customized with individual player names in U.S. Army gold.
Combining the past with the future, an all-new Chromaflage pattern has been infused into the uniform from head to toe. Starting from the top, the U.S. Army logo is emblazoned onto a glossy metallic finish helmet that features the Chromaflage "Stars & Stripes" pattern. The "Stars & Stripes" pattern was designed exclusively for this uniform and marks the first time that adidas Football has featured a "flage" pattern on a helmet and uniform. The new Chromaflage pattern is also featured within the symbolic battle stripes on the jersey and pants, player numbers, TECHFIT baselayer, arm sleeves and adizero 5-Star 4.0 gloves.

Both squads will debut the new Chromaflage "Stars & Stripes" edition of the adizero 5-Star 5.0 x KEVLAR® cleats. Lighter than any competitor cleat at 7.9 ounces, the lightweight adizero 5-Star 5.0 features a durable, flexible SPRINTSKIN upper with SHOCKWEB reinforcement. The 5-STAR FRAME, featuring a plate reinforced with KEVLAR®, is the optimum blend of lightweight, strength and traction.

Chromaflage, the latest evolution of adidas Football's iconic and disruptive 'flage' pattern, takes innovation and custom uniforms and cleats to another level by adding the element of 3D photorealism. Pushing the boundaries of manufacturing techniques, adidas designers created an environment where an actual photo or image could be projected through a 3D liquid crystal graphic to create a distorted, 3D Chromaflage pattern.
For more information and images of the new 2016 Army All-American Bowl Primeknit uniforms and the adizero 5-Star 5.0 Chromaflage 'Stars & Stripes' cleats, please visit http://news.adidas.com/US​ and follow the conversation on Twitter and Instagram via @ArmyAllAmerican​, @adidasfballUS​, https://www.facebook.com/adidasfootballus​​, https://www.facebook.com/adidasfootballus​​, #teamadidas​, #ArmyBowl​

contacts
Paul Murphy

Football, Baseball, Hockey PR

United States

971-234-4266