adidas Unveils Special Edition adizero Afterburner 2.0 & Energy Boost Icon Cleats for MLB All-Star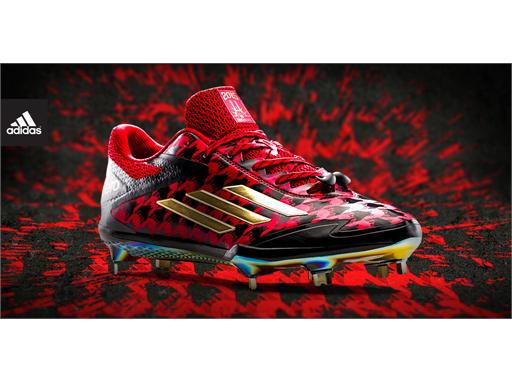 In celebration of the Major League Baseball (MLB) All-Star game, adidas Baseball today unveils the "Flying Pigs" MLB All-Star collection. This special edition lineup includes the adizero Afterburner 2.0 cleat, the lightest cleat in baseball, and Energy Boost Icon cleat, featuring the revolutionary Boost technology.
Taking inspiration from this year's host city, the new All-Star cleat pays homage to Cincinnati and its heritage. Incorporated as a city in 1819, Cincinnati quickly became the pork capital of the Midwest and has since established a legacy of both flying and dancing pigs. Some even refer to the city as "Porkopolis."
Combing those cues with the red and black colors of the Cincinnati Reds, adidas Baseball designers developed the "Flying Pigs" inspired theme. The emblem and pattern features a flying pig with a curly cue pig tail, which was inspired by the spinning turbine engine of an airplane in order to help it fly. The All-Star cleat also features a mustache on the laces, paying tribute to the famous Reds' mascot, Mr. Redlegs.
With a tip of the cap and nod to the riverboats that populate the Ohio River during the summer months, the MLB All-Star edition cleats feature a riverboat logo on the tongue of the cleat, which is designed with a baseball at the center, bats to make up the paddles, and the famous riverboat 'stacks' that shoot fireworks from Great America Ball Park.
The adizero Afterburner 2.0 features a full-length LITESTRIKE EVA midsole for increased cushioning and comfort, and the Energy Boost Icon features the revolutionary Boost midsole for an endless supply of energy and acceleration. Both cleats sit atop a multi-color, rainbow, electroplated plate, which changes colors at different angles to represent the multiple colors of the 30 teams playing in the All-Star game.
Chicago Cubs rookie third baseman, Kris Bryant, New York Yankees pitcher, Dellin Betances and San Diego Padres outfielder, Justin Upton will all wear the special edition "Flying Pigs" MLB All-Star design for the All-Star game. The MLB All-Star adizero Afterburner 2.0 cleat will be available in a limited run via
www.eastbay.com
and the Energy Boost Icon will be available on
www.adidas.com
.
For more information and images please visit
http://news.adidas.com/US/US
and join the adidas Baseball conversation via
@adidasbaseball
and
www.facebook.com/adidasbaseball
.
contacts
Paul Murphy

Football, Baseball, Hockey PR

United States

971-234-4266